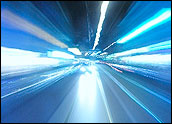 A new technology using silicon nanowires boosts the ability of rechargeable lithium-ion batteries to store a charge by as much as a factor of 10, according to research conducted at Stanford University. The findings are published in the December 2007 issue of Nature Nanotechnology.
The technology could significantly extend the running time of battery-powered devices such as digital cameras, iPods, mobile phones and notebook computers from a scant four hours up to a full day or an entire work week.
The achievement is not an incremental advancement for lithium-ion batteries but a revolutionary one, according to Yi Cui, assistant professor of materials science and engineering and lead researcher.
"If their claims are true, this could be a breakthrough technology," said Roger Kay, president, Endpoint Technologies Associates.
Increased Capacity
Standard lithium-ion batteries use graphite anodes that are capable of holding only a limited amount of charged lithium particles. The graphite anodes' limited capacity is chiefly responsible for the relatively brief charge life of lithium-ion batteries. Replacing the graphite anodes with silicon nanowires would increase the battery's charge storage capacity, Stanford researchers found.
"Silicon is an attractive anode material for lithium batteries because it has a low discharge potential and the highest known theoretical charge capacity," the report says.
However, the researchers needed to solve a longstanding problem surrounding the use of silicon in lithium-ion batteries. The repeated insertion and extraction of lithium ions causes the minuscule silicon wires to degrade and eventually fall apart, which leads to poor battery performance over the long run.
"Although [silicon's capacity] is more than 10 times higher than existing graphite anodes and much larger than various nitride and oxide materials, silicon anodes have limited applications because silicon's volume changes by 400 percent upon insertion and extraction of lithium, which results in pulverization and capacity fading," the report explains.
The Steel Solution
Cui, along with his fellow researchers, solved the problem by growing silicon nanowires directly on a stainless steel substrate that served as the current collector, the report says. The nanowires were able to inflate up to four times their normal size — one-thousandth the thickness of a piece of paper — as they absorbed the lithium without any breakage.
The anodes were then able to attain the maximum theoretical charge capacity of silicon on the first charge cycle and remained close to 75 percent of their maximum over the course of many charge and discharge cycles, according to the researchers.
The new lithium batteries could be available within several years.
"This could make a big difference in many possible applications if the benefits can be carried all the way through the process at a reasonable cost," Kay told TechNewsWorld.