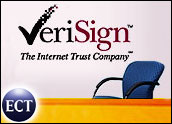 Doomsayers may be fond of predicting the imminent collapse of the Internet under the weight of video and other bandwidth-intensive applications, but at least one infrastructure provider is on track to increase its capacity tenfold by 2010.
VeriSign, which manages the critical infrastructure that handles registration and resolution traffic for the .com and .net systems, announced back in February its Project Titan initiative to strengthen Internet infrastructure. Since then, it has increased its capacity from 400 billion to 2 trillion DNS (domain name system) queries a day as well as working to diversify its infrastructure globally and creating new tools and processes to better monitor and manage traffic.
A DNS query is something that occurs every time an Internet user clicks on a Web site, checks e-mail or engages a computer application that uses the .com and .net infrastructures.
Enhanced Security
The upgrades VeriSign is implementing are vital to managing the surge in Internet interactions and protecting against cyber-attacks that are increasing both in scale and in sophistication, the Mountain View, Calif.-based company said.
"If the Internet infrastructure is not continually fortified and strengthened, then we run the risk that it will be unable to support the growing and dynamic needs of users, businesses and governments that rely on that infrastructure every day for commerce, communications and operations," said Ken Silva, chief security officer for VeriSign.
"For the Internet to remain a trusted platform, there must be complete confidence that it can scale to meet the demands and protect itself against attacks by those who want to disrupt it," Silva added.
Viruses, spam, spyware, identity theft and denial of service attacks often involve hijacking PCs and other devices and using their bandwidth connections to launch attacks on the Internet infrastructure. Such attacks are now 100 times more threatening than those of just two years ago, VeriSign said.
Project Titan
The company's multiyear Project Titan initiative involves continuing to upgrade its DNS query capacity to accommodate 4 trillion queries per day and scaling its resolution systems to increase their bandwidth from over 20 gigabits per second (Gbps) to more than 200 Gbps by the year 2010.
The company is also distributing its infrastructure across the globe to improve redundancy and reduce latency, with new sites around the world for a planned total of 100 by 2010. New sites in Bulgaria, Lithuania and South Africa, for example, extend the .com and .net infrastructures globally, which diversifies the systems, increases stability and improves resolution speed for end users, VeriSign said. They can also direct region-specific DNS traffic to more effectively quarantine malicious traffic, it said.
Finally, VeriSign is also expanding its existing registration and resolution infrastructure to manage the increasing demands on the .com and .net systems and developing new monitoring and response services that will help better protect .com and .net traffic against cyber threats.
Challenges of Convergence
"As we move into a converged environment, there are going to be a lot more bandwidth demands," Dave Lemelin, senior analyst with In-Stat, told TechNewsWorld. "A lot more traffic will be carried over IP, including things that typically used to be handled over the public switched telephone network."
As customers increasingly integrate Voice over Internet Protocol (VoIP) and begin integrating unified communications capabilities, bandwidth demands will increase even further, Lemelin added — "let alone what will be happening in the video environment."
In 2007, Internet growth rates have increased an average of 57 percent worldwide, compared with 74 percent in 2006, Eric Schoonover, senior analyst with TeleGeography, told TechNewsWorld.
Stellar Capacity Growth
Because of last year's record-setting increase in demand, "a good portion of the world's Internet backbone providers set about to upgrade networks in response," leading to a capacity growth of 68 percent this year, Schoonover said. Typically, capacity growth lags behind traffic surges by about a year, he added.
Moving forward, TeleGeography expects average traffic growth rates to continue globally at between 50 and 60 percent per year over the next several years, Schoonover said. Video applications and peer-to-peer file sharing are among the drivers for that continuing growth, he said.
Will the Internet inevitably collapse at some point under the weight of all that traffic? "We haven't seen companies struggle too much to keep up," Schoonover said. "There's still a ton of unused infrastructure capacity out there, and there's still a lot of room to grow. The capacity increases this year show that companies can do it," he said.
No Collapse Imminent
Indeed, efforts by VeriSign and others "show that these infrastructure companies understand the challenges of the Internet today and are getting prepared," Matt Bennett, executive director of the New Millennium Research Council, told TechNewsWorld. "The history of the Internet shows that when there is demand, suppliers will meet it."
Looking ahead, "so long as providers are given the flexibility to innovate, invest, deploy and engage in projects like VeriSign's, we'll be OK," Bennett added. "That will allow the Internet to keep growing, which is what we all want."