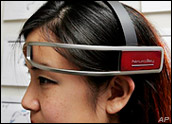 Forget joysticks: New toys in the works at San Jose, Calif.-basedNeuroSky reportedly use players' brain waves to control the action.
The toys include a sensor, which is placed on the player's forehead to read the brain's electrical signals. Moves are dependent on the player's concentration.
In a prototype Darth Vader game, for example, the dark one's light saber lights up only when the player is concentrating, according to an Associated Press report. Stop concentrating, and the saber goes out.
The technology — slated to debut this summer at the Japan Toy Association's trade show and make its first U.S. appearance at the American International Fall Toy Show — reportedly measures a player's baseline brain-wave activity and ranks it on a scale of 1 to 100.
Based on what the player is thinking about at the moment — something relaxing or something requiring concentration, for example — the numbers change.
Next Big Gaming Step?
Brain-computer interface enthusiasts say that such technologies can improve concentration and even help players suffering from attention deficit disorder or autism. Whether or not that's true, they will almost certainly change the way people play games.
"There are a lot of efforts in which the neurotech industry is crossing over into games," Ted Pollak, senior analyst for the gaming industry with Jon Peddie Research, told TechNewsWorld. "It's neat, but at the same time, the technology is almost scary.
"This is definitely the next big step in the game industry, and it goes way beyond games," he added. "As long as it can't hurt you, it will probably just increase our understanding of the brain."
Your Brain, or Your Face?
Scientists who specialize in studying the brain aren't so sure the technology does what its proponents claim, however.
"In the absence of a lot more information, I have to be skeptical that this technology is actually recording brain waves," Jonathan Wolpaw, chief of the New York State Department of Health's Wadsworth Center Laboratory of Nervous System Disorders, told TechNewsWorld.
Although technologies often aim to record electrical signals from the forehead, it's actually much easier to record muscle activity, such as blinking, smiling, wrinkling the forehead or clenching the jaw.
"When we do scientific experiments, we have to go to considerable lengths to make sure we're not being fooled by other activity, like muscle activity," Wolpaw said. "So, unless NeuroSky is doing something very fancy, it's highly likely that what they're recording is muscle activity — not brain waves."
NeuroSky could not be reached for comment.
Ripe for Revolution
Emotiv Systems, another player focusing on thought-controlled games, announced a development kit earlier this year for use by electronic game manufacturers.
"The games industry is ripe for a revolution in the way players interact with a game," said Nam Do, CEO and cofounder at Emotiv.
"Brain-computer interfaces dramatically change the way players interact with a game and, as such, have a profound effect on the gaming experience," Do said. "Developers are looking to this technology to take their games to another level, to differentiate their products and to retain their fans."