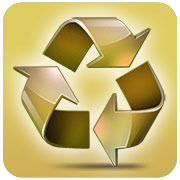 New iPhone? Now, what to do with the old one, and the one before that?
Wondering what to do with the old, redundant gear spilling out of drawers, relegating your automobile to the driveway or street?
Step 1: Gather It Up
Collect all of the household electronics that are no longer being used and place thesmaller items, with chargers and any peripherals, into a clear zip-style kitchen bag.
Look for phones and games in particular. They can be the mother lode.
Then place the bag in a dedicated obsolete gadget box. A purchased plasticbox from a superstore works better than cardboard. It gives the project a semblance ofseriousness — it's a revenue-producing project rather than just another box full of junk.
Step 2: Make a List
Inventory and identify what you've got.
You can consider certain obsolete technologies redundant e-waste — valueless, unsaleable and never to be used again. They include anything where technology has been superseded rather than just improved.
For example, e-waste includes the heat-creating, eco-unfriendly bulk of a Cathode RayTube (CRT) computer monitor.
In-demand, valued electronics genres:
anything gaming-related, including consoles, software and accessories;
DVD and Blu-ray discs and players;
computing tech, including anything with an edge — for example, awireless mouse but not a wired mouse;
phones and accessories;
general small electronics, including anything photography-related, memory cards, GPS devices;
big stuff like monitors, projectors and televisions a long as they're current; and
music.
Tip: Items that are being replaced by electronic versions have some value, includingsome books and CDs.
Step 3: Establish Priorities
Decide how much time you want to spend on this project. There's a correlation betweentime and income.
Start with small electronics — the least time consuming and most profitable. They are easyto get rid of and will pay for your time.
For example, I sold an unlocked, used Palm Treo smartphone to online electronicsexchange and buyer CeX for US$23 earlier this year. I paid for the postage, so nettedaround $20.
Examples of high-value items CeX has a market for, according to its website lastFriday, are the black Apple iPhone 4S with 16 GB of memory on the Sprint network.They will pay you $230 or exchange for $276.
They'll pay you $492 for a used Canon EOS 7D 18 Megapixel camera body only orgive you $591 in exchange credit.
Larger electronics and white goods appliances taking up space can be sold via localcommunity moderated, free online classifieds like Craigslist.
Alternative electronics markets include auction websites like eBay. Along with the CeXiPhone listing, I saw a similarly specified, used black Apple iPhone 4S with 16 GB ofmemory on eBay with case, selling for $285, and the buyer paid shipping.
Auction websites are more time-consuming than online buyers like CeX, but in the caseof the auction websites you can make more money.
Tip: Look for store credit, or buyback schemes at the device manufacturer or mobilenetwork's website.
Step 4: Take Out the Trash
This is not a time to get sentimental, particularly ifyour residential square footage is low and your rent or mortgage is high.
Ask yourself if you intend to launch the Museum of Obsolete Computer Displayssometime in the next 20 years.
No? Then one of the good places to offload gear you haven't been able to sell is retailerBest Buy, which accepts nearly everything small and electronic. It will remove largeritems for free, under certain circumstances, with a delivery.
There are in-store drop bins at Staples and Radio Shack stores among others.
Curbside waste haulers can often pickup major appliances if you call them, but they maycharge.
Your local municipality may hold free e-waste collection events, but those events maynot accept major appliances.
Looking toward the future — this is becoming a major industry. Look for ATMs and kiosks that paycash for gadgets in malls sometime soon.
Want to Ask a Tech Question?
Is there a piece of tech you'd like to know how to operate properly? Is there a gadget that's got you confounded? Please send your tech questions to me, and I'll try to answer as many as possible in this column.
And use the Talkback feature below to add your comments!