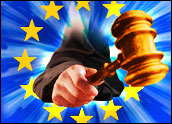 Music file sharers and ISPs in Europe were triumphant after an advisor to the European Union's Court of Justice (ECJ) said Wednesday that, in civil cases, telecommunication companies in Europe are not required to provide data on clients thought to be illegally sharing music files.
A Spanish court sought the advice of the EU's top court in a case launched by Promusicae, a music and audiovisual association in Spain — think Spanish RIAA — after Telefonica, an Internet service provider, refused to release the names and addresses of subscribers suspected of using file sharing programs such as Kazaa to share copyrighted music. Promusicae wanted the information in order to take legal action against the suspected file sharers.
Telefonica maintained that it was unable to hand over the information unless it was connected to a criminal prosecution or dealt with matters of public security or national defense.
Music to Their Ears
Advocate General Juliane Kokott ruled that the 27 member states are permitted to exclude revealing personal data on Internet traffic in civil cases — as opposed to criminal cases, for which compliance with such requests are compulsory.
ECJ judges are expected to make their final ruling later this year. The judges follow the advocate general's recommendations in roughly 80 percent of cases, according to reports. Until the final ruling, Kokott's preliminary recommendation is non-binding.
Just a few weeks earlier, however, a Belgian court ruled that a nationwide ISP, Scarlet Extended (formerly Tiscali), must use a filtering technology to prevent its subscribers from illegally downloading music. The court gave Scarlet a six month deadline to deploy the technology. The court provided a list of suggested programs, which included Audible Magic's audio fingerprinting application.
File Sharing on the Down-Low
"While the recommendation is not legally binding, nonetheless it is still a blow for the recording industry in Europe," Mark Mulligan, a JupiterResearch analyst, told TechNewsWorld. "Music bodies have been trying to persuade ISPs to voluntarily police music file sharing. Progress has been modest at best.
"The music industry has changed tact, and a test case in Belgium involves an ISP being compelled to filter out infringing works," he continued.
However, he pointed out, going after file sharers in court is no longer the best option for the music industry, as file-sharing technologies continue to evolve.
"Enforcement is becoming less and less practical for the music industry. As the P2P landscape fragments post-Kazaa — which incidentally cannot be used for illegal sharing anymore — numerous encrypted networks and small 'darknets' are emerging that are nigh on impossible to monitor and police."
Data from Jupiter's consumer survey indicates that Europeans are increasingly seeking alternative ways to share music, e.g. IM, e-mail, forums and blogs, according to Mulligan. The music industry has always been playing a game of catch-up with file sharing; now they are on the verge of being lapped, he said.
"In short, consumers are going underground, and crucially, under the radar of the industry," he concluded.