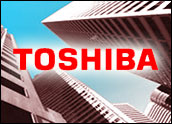 The race for the thinnest, lightest notebook in the land continued Tuesday with the debut of Toshiba's Portege R500-S5007V. The latest model adds a 128 GB solid-state drive (SSD) — the only one available on the market, according to the computer maker.
"From a product perspective it is a stellar product," J.P. Gownder, principal analyst at Forrester, told TechNewsWorld. "Toshiba is trying to demonstrate their innovation by including this. Essentially it is an early move in the solid-state drive market."
Go Ultralight and Go Big
At 2.4 pounds, the R500-S5007V weighs more than half a pound less than the 3-pound Apple Macbook Air and the-2.93 pound Lenovo Air. Toshiba also said the unit is one of the slimmest ultraportables out there at 0.77 inches thin.
The notebook boasts a 12.1-inch widescreen transreflective light emitting-diode (LED) backlit display. This enables users to take the machine outdoors into direct sunlight and still see the screen, according to Toshiba. Also, as sunlight passes through the transreflective screen it hits a reflector that bounces the light back and illuminate the images on the display.
"We've also included an LED on/off switch — basically a light switch — so you can turn off the display lighting and use the sun. By turning off the display you can use the ambient light to see everything nice and clearly. Perhaps the best part is you have better battery life," explained Craig Marking, senior product marketing manager at Toshiba.
The R500-S5007V is not the first in the Portege line to offer a solid state drive. An early model released in 2007 shipped with a 64 GB SSD. The addition of a 128 GB SSD, however, means users will have extra room for data.
The system runs on a low-voltage 1.33 GHz Intel Core 2Duo U7700 processor with a bus speed of 533 MHz, 2MB of L2 cache and 2 GB of memory. It also includes integrated graphics courtesy of Intel's Graphics Media Accelerator 950.
Wrapping up the R500-S5007V's specs is its SuperMulti 7mm, 8x read and rewrite DVD drive, built-in WiFi and Bluetooth support, a fingerprint reader and a battery boasting up to eight hours of power.
Ringing up at US$2,999, the R500-5007V's relatively hefty price makes up for its diminutive size.
"For solid state, that's not so expensive. For the PC market in general that's really expensive. That said, it can act as a halo product and bring attention to some of the other Toshiba offerings, which are also very interesting. This is really for your CEO types who run around a lot traveling on planes," Gownder pointed out
"It's a very elegant solution. I think they deserve a lot of credit for being able to engineer something like this. Toshiba has that engineering expertise to be able to be innovative," he continued.
Engineering Feat
The push in the ultraportable segment has led other hardware makers like Apple and Lenovo to sacrifice components in an effort to build a thinner, lighter machine. The MacBook Air, for instance, has no optical drive and features a single universal serial bus (USB) port. Toshiba appears to be headed in the opposite direction, retaining its optical drive and sporting three USB slots.
In order to fit in the laptop's DVD drive and meet its design and platform objectives for a thin system, Toshiba engineers had to rethink how they laid out their motherboard, Marking told TechNewsWorld.
Toshiba created a motherboard that was one-third the size of the motherboard in a standard 15-inch system. This was the major factor that enabled designers to fit more components into the computer.
The R500-S5007V will give the Macbook Air a run for its money, Forrester's Gownder said, but more importantly it will help stem the flow of first-time Mac buyers, roughly 50 percent of purchasers in the first quarter of 2008, according to numbers released by Apple.
"Insofar as people we're talking about who would be new to Macs, this is an important bulwark against that kind of defection. If you're willing to spend a good bit on an elegant laptop solution, you have an attractive option now compared to the Macbook Air," Gownder explained.
Ultra Portable or Ultra Mobile?
Computer manufacturers will increasingly straddle the line between ultraportable notebook PCs and the bare-bones ultra mobile PC (UMPC) categories as they design thinner and lighter machines.
"It's tough, and what they should be doing to navigate that is some really intensive thinking about what the consumer audience and business audience is, because it's very dependent on what application you're interested in working from," Gownder suggested.
Asus' UMPCs predicate their designs on the belief that users will not be doing anything that requires computational capability on the desktop, according to Gownder. Rather, it will be used to access cloud-based data, making Asus systems ideal as a third or fourth PC, he said.
HP took a different tack with the Mini-Note, offering the system at $599 with a very basic version of Windows Vista installed.
"This gives [users] access to a wider variety of computational abilities like simple photo editing or having your music on your laptop other than getting it only from the cloud," he continued.
Systems such as the R500-5007V give users the ability to use any and all applications with an emphasis on productivity, which is critical to "the road warrior and those who straddle the line between business and consumer," Gownder noted.
As the two segments continue to grow, manufacturers will "throw stuff out there to see what works."
That, however, will be a tough road, because they'll first need to understand what the audience for a particular design really is.