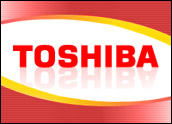 Toshiba will join the likes of SanDisk and Samsung by offering flash-based solid-state drives (SSD) for notebook PCs during the first quarter of 2008, the company announced Monday. Incorporating flash-based SSD drives instead of traditional hard disk drives into laptop computers results in lower power consumption and faster boot times.
"Flash memory's characteristics of non-volatility, fast read times, shock resistance and low price points will continue to make this storage technology an ideal choice for not only mobile phones, but other handheld devices such as MP3 players and digital cameras," said Chris Roden, a Parks Associates analyst.
"What makes NAND Flash attractive for computers is the same benefits handheld devices receive," he told TechNewsWorld.
New Drive on the Block
The first SSDs from Toshiba will be available in three densities: 32 GB, 64 GB and 128 GB. The drives integrate an original MLC (multi-level cell) controller supporting fast read-write speeds, parallel data transfers and wear leveling, and reach performance levels comparable to those of single-level NAND flash SSD.
That, according to Toshiba, enabled the company to realize a 128 GB density in a 1.8-inch form factor. The hardware maker will also offer a 32 GB and 64 GB 1.8-inch drives, along with 2.5-inch versions of the three densities.
The new line of flash-based drives utilize NAND flash memory fabricated with 56 nanometer (nm) process technology, along with controller chips and DRAM (dynamic random access memory), on a 70.6 mm by 53.6 mm by 3.0 mm platform. The maximum speed is 100 MB per second with a maximum write speed of 40 MB per second with the SATA2 (serial advanced technology attachment) interface with a transfer speed of 3 Gbps (gigabits per second), which is compliant with high-speed serial interface. The drives also boast a 1 million hour operating life.
Production is scheduled to begin in May 2008. Toshiba's module SATA drives, also available in 32 GB, 64 GB and 128 GB models, are set to begin in March 2008.
New Player
Flash drives designed for laptop computers have had a slow uptake, with adoption limited due to higher costs relative to the costs of hard disk drives. The market for flash-based drives is still deemed a niche market, with just over 1 million units shipped this year.
Toshiba's decision to jump into the emerging flash-based SSD market is significant because the company has its own flash, its own controllers and an HDD (hard disk drive) division, said Joseph Unsworth, a principal analyst at Gartner.
"They have the economies of scale and the in-house capabilities of leveraging both divisions — currently Samsung is the only company that has this same ability," he told TechNewsWorld.
Toshiba's move also demonstrates that flash storage technology is moving into the mainstream.
"It's significant in that it is becoming more mainstream, and we'll start to see more solid state disks on laptops. Toshiba is a major brand, so its kind of becoming more mainstream. But as far as the specific technology that they are using, I don't see that as really groundbreaking. I see it as another vendor getting into the game, and more and more it will become an industry standard," said Andrew Reichman, a Forrester Research analyst.
SSDs in PCs — where cost is king — are much different than SSDs used in enterprise storage — data center applications where performance matters — Unsworth explained.
"The market is emerging, with SanDisk and Samsung the current leaders, in PC SSD, and STEC and SanDisk leaders in the enterprise storage segment. Intel, Micron, Seagate, now Toshiba are capable of being tier 1, and the market is being inundated with new vendors like PNY, Ritek, PQI, Transcend, A-Data, etc. In 2006, the market was led by SanDisk, STEC, Smart Modular, Silicon Systems, BitMicro and Adtron, but the market was niche with (US)$95 million in revenue and 173,000 units," he continued.
Drive Time
SSDs offer enhanced performance. They can access data quickly, but not at instant-on ability like a TV, Unsworth pointed out. They also promises better reliability, since with solid state there are no moving parts. This helps improve failure rates as well as the total cost of ownership. SSDs also offer greater power efficiency as well as a form factor that is lighter and noiseless.
Flash drives will not completely replace hard disk drives for the time being. Rather, the two drive types will run side by side, with the flash drive complementing the hard drive. NAND, due to its limited data retention, is not an archival media.
"[Flash NAND] is currently prohibitively expensive and it will never be able to rival HDD in terms of cost per gigabyte. HDD give you much more storage for the buck, and this is essential if you are storing multimedia files like video, and especially HD video," noted Unsworth.
"NAND Flash for computer storage will continue to be integrated in more laptops as the technology advances and the prices continue to decline. However, in the near future, the traditional HDD will continue to be the ideal choice," Roden pointed out.
With a hybrid approach, knowing where to put what will be a complicated matter, Reichman told TechNewsWorld.
"The operating system and applications that run on the computer will have to determine what to put where. If flash gets cheap enough so that [it] becomes the only hard drive on a system, then that problem is reduced. But with people's appetite for data growing as fast as it is, it is unlikely that flash will come down in costs. As flash declines in cost, people are going to want to store more and more, so you'll always have a hybrid approach, with a terabyte drive and a 100 MB flash, for instance," he explained.