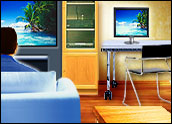 A multifunction Toshiba TV that emitted an aircraft emergency signal triggered a transcontinental chase earlier this month to an apartment in the college town of Corvallis, Oregon.
When a rescue team knocked on his door, student Chris van Rossman was watching his 20-inch Toshiba flat-screen TV. The high-end set has built-in DVD, VCR and CD units.
Pinpointed Source
The rescuers, Sheriff's Deputy Mike Bamberger of the Benton County Search and Rescue team and ham radio operator John Stanley, were checking out an alert at the request of the Air Force Rescue Coordination Center at Langley Air Force Base in Virginia.
At Langley, they had gotten a signal from the international satellite emergency network, which monitors the 121.5 mHz frequency for alarms from crashed aircraft. Stanley was carrying a handheld transceiver that indicated the signal was coming from van Rossman's apartment.
Locating the Culprit
"We narrowed it down to a spot on the wall in the hallway," Bamberger told TechNewsWorld. "Whatever was behind that spot" was the source of the signal, he said.
Van Rossman said he wasn't fooling with a radio — but after he turned his television off and closed the door behind his visitors, the signal stopped. Bamberger knocked again.
They turned the TV back on, and the signal started again. "That TV unit is complicated electronics," Bamberger said. "It's cable-ready, and has several computer components in its control system."
Toshiba Examining Components
Van Rossman was told that the FCC fine for emitting a false rescue signal is up to US$10,000 a day. His TV has been turned off as he awaits a replacement, compliments of Toshiba. He will not be ordered to pay the fine.
Both Bamberger and an FCC spokesperson said this is the first alarm they've seen from a consumer device; usually false alarms are caused by private aircraft that are jostled while they're parked. The alarms are triggered by an impact switch. The FCC has yet to make contact with responsible Toshiba staff.
Toshiba American Consumer Products in New Jersey said it had been unaware of the problem, and that it tests its products regularly to assure compliance with regulations. Spokesman Alejandro Aranjo said Toshiba hasn't yet identified the offending TV component. Aranjo also said this is the only case of its kind that he has heard of.