There's been a standard for super-fast SD cards for two years now, but signs of products deploying the technology have been absent. That is, they were absent until Tuesday, when Toshiba announced plans to deliver a new line of SD cards using UHS-II technology to the market this fall.
The advance notice gives device makers time to start designing products that support the swifter read, write and transfer speeds supported by UHS-II.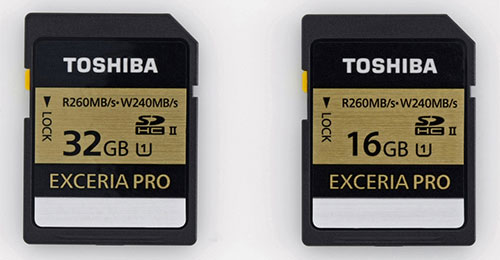 "Now that the cards are starting to appear, the devices should follow," Kevin Schader, director of communications with the SD Association, told TechNewsWorld.
"You have to have the card before the device that works with them," he continued, "so typically you see the cards first and the devices follow. It's a chicken and egg thing."
Blazing Transfers
Although there are no devices that support UHS-II now, since the cards are backward-compatible, you can use them in many existing SD slots. You just won't be able to take advantage of the chrome-burning speeds supported by the new cards.
Toshiba claims that the new Exceria Pro UHS-II card boasts the fastest write speeds in the market at 240 MB per second. Read speeds are rated at 260 MB/sec.
The UHS-II standard can support data transfer speeds up to 312 MB/sec.
The Exceria Pro will be offered in two sizes — 16 GB and 32 GB — and is expected to reach worldwide markets in October.
In addition to the Pro series, Toshiba plans to release an Exceria UHS-II series in November that supports slower write speeds — 120 MB/sec — and the same read speeds as the Pro. Those cards will be offered in 32 GB and 64 GB capacities.
Ideal for 4K, Blu-ray Apps
No pricing for the cards has been announced by Toshiba yet, but it's been reported that the 64 GB Exceria card will sell for US$250.
While digital cameras have made huge strides in image quality and versatility, users have long wanted to see improvements in data transfer rates and write times, so they can take bursts of photographs in quick succession, according to Toshiba.
This demand has grown as high-performance digital single-lens reflex cameras and mirrorless interchangeable-lens cameras have gained popularity and moved into the mainstream, the company said, while further advances in higher-resolution image recording fuel demand for transfers of data-rich images at high speed.
"These cards are really ideal for applications with large amounts of data — 4K television, Blu-ray video — anything that creates large files that you want to move quickly," SDA's Schader said.
CompactFlash Allure
Despite the blazing speeds promised by Toshiba, professional photographers will likely stick with their favorite storage medium: CompactFlash.
That's what's typically found in high-end digital cameras — the kind professional photographers use, explained Toshiba USA Product Manager Jacky Lee.
"SD cards are more for point-and-shoot cameras," he added.
CompactFlash media have benefits that trump speed for many pro photogs, explained David D. Busch, creative director for the David Busch Photography Guides.
"Professionals prefer CompactFlash because it's more rugged," he told TechNewsWorld. "SD cards are also smaller and easier to lose."
"It feels nicer to have a nice big CompactFlash card than a tiny SD card," he added.
Dueling Media
Nevertheless, some high-end cameras, like the $4,000 Canon EOS 5D Mark III, support both CompactFlash and SD media. There are a number of advantages to that arrangement, Busch noted.
"You can save to both slots simultaneously, so you can have an automatic backup," he said.
A bugaboo of professional imagesmiths is running out of storage space in the middle of a shoot. Dual slots can give a shooter piece of mind in that regard, as well.
"With two slots, you can set them for overflow and not worry about filling up your CompactFlash card," Busch explained.
"Professionals would prefer to have two CompactFlash cards in a camera, but there isn't room in a camera these days for that," he added.
Earlier this year, Toshiba introduced a line of Exceria CompactFlash cards with read speeds of 160 MB/sec and write speeds of 150 MB/sec. Card sizes range from 16 GB to 64 GB, and they range in price from $129.99 to $499.99.