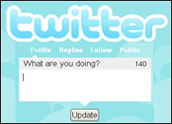 The constant drumbeat of bad economic news didn't stop Jennifer Cloud from pursuing a job in her chosen field of interactive marketing. Armed with a degree in communications and a desire to learn new technologies, she started using Twitter.
"I was wondering if the resumes I was blindly submitting online were launched into a vortex," Cloud said. "With Twitter you meet people at all levels of management and get an opportunity to present yourself as a person rather than a piece of paper."
Cloud, who is now a media specialist focused on social media management at the Scorch Agency, is among a growing number of people using Twitter to find jobs.
The social network opened doors, Cloud told TechNewsWorld. "I started being in the right places at the right times to set up great connections and even interviews."
15 Minutes a Day
Using Twitter to search for a job doesn't need to take a lot of time. Job seekers only need to set aside five minutes in the morning, five minutes at noon, and another five minutes at the end of the day, said Susan Whitcomb, one of the authors of The Twitter Job Search Guide: Find a Job and Advance Your Career in Just 15 Minutes a Day.
During each five-minute interval, job seekers should read through two or three screens of tweets with the goal of posting two or three tweets themselves, said Whitcomb, who is president and founder of the Career Coach Academy and Job Search Academy.
These tweets could be a combination of posts, Whitcomb told TechNewsWorld. One could be a retweet of an industry leader from one of the job seeker's target companies or a reply to someone who tweeted something insightful. The other tweet could then be a professional insight or something interesting found on the Web.
While this approach might not be applicable to every industry, it is certainly good for positions that require the use of Twitter, such as marketing, Whitcomb said.
"Twitter should be integrated into a job search campaign. Once relationships are established on Twitter, they should be moved to phone and face-to-face conversations," she added.
Do's and Don'ts
There are a number of do's and don'ts that anyone who is using Twitter to find a job should keep in mind, Whitcomb explained. First, the job seeker needs to establish a brand and plan.
"Know who you are and what you want to accomplish," she said, adding that it is important to choose an identity wisely and select a professional screen name.
Job seekers should shoot for a 75-to-25 percent professional-to-personal ratio. Interviewers will review the job candidate's Twitter stream, Whitcomb said. "People get hired for who they are, not just what they do. Your digital footprint is your resume."
It is also important to tweet regularly. "Be visible, viable and valuable," Whitcomb advised. "Make sure your tweets demonstrate your skills and interests."
Finally, it is important to be worthy of following, Whitcom said. "Engage in interesting conversation and generously offer help, information and job postings."
Don't forget to follow recruiters and don't forget to ask questions, Whitcom suggested. "Know of any great companies in Philly for project managers?" could be one question, or "What's the best advice on the dreaded 'weakness' question in interviews?"
Also don't expect Twitter to help land a job in one day, or even one week, or one month, Whitcomb said. "Relationships take time. Be strategic: Allow serendipity."
Most importantly, don't be a downer. "Avoid focusing solely on your job search, appearing needy, oversharing personal information and problems, whining about frustrations, or boss bashing," she said. "These are not appealing to potential employers."
Tools of the Trade
Twitter is just one of the social networking tools online that Rachel Esterline used to land a job as a media relations assistant with Come Recommended, an online community that connects interns and entry-level job candidates with employers.
"I would suggest integrating Twitter with other social media tools," Esterline told TechNews World, noting that LinkedIn is a good for connecting with professionals. She also blogs about careers in public relations and has a fan page for her blog on Facebook.
"Having a blog and blogging about industry topics can show employers that you can think on your own and you're not just regurgitating information on Twitter," Esterline said. "It is important to appear as a person, not just someone pushing out content."
The owner of Come Recommended noticed Esterline's posts and asked her to apply for a job.
"After watching her feed for only a short period, I knew she was a rising star in the public relations industry," said Heather Huhman, founder and president. "I began reading her blog and following her activities in places other than Twitter."
Although everyone who applies goes through Huhman's regular hiring process, she told TechNewsWorld that Twitter is a great platform to discover new talent.
"Job seekers should use every tool at their disposal," Huhman said. "LinkedIn, Facebook, niche social networks — as well as offline methods — should all be used."