Gadget enthusiasts got their first sneak peak of a branded smartphone with Microsoft's latest operating system installed on a prototype.
Although mobile phones with the software giant's new operating system are not expected to hit the stores before the holiday season, Microsoft unveiled its first branded Windows Phone 7 Series device on The Engadget Show on Saturday.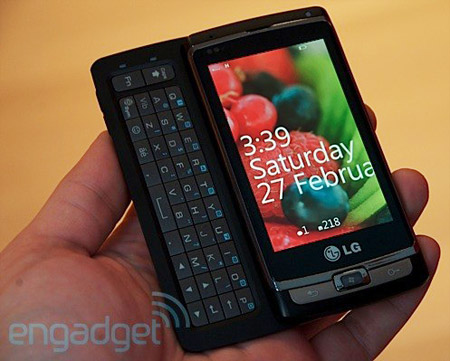 LG's Windows Phone 7 Series Preproduction Prototype (Photo: Engadget)
Viewers of the monthly online talk show got a close look at the phone, which is a bit thicker than an iPhone. It has a dedicated hardware camera, volume and power button, in addition to back, home and search buttons.
Full Keyboard
The general layout of the LG smartphone featured on the show will probably be similar to the final product, said Nilay Patel, senior associate editor at Engadget.
Microsoft first unveiled its new mobile operating system on an unbranded handset last month at the Mobile World Congress in Spain. While many were expecting to see a touchscreen in the first branded prototype, Patel told TechNewsWorld he was surprised to see a smartphone with a slide-out keyboard first.
"It was cool to see that they had a full keyboard," Patel said, adding that he expects a touchscreen to be available as well when the phones are shipped to stores.
The software on the LG prototype was a little slow to operate, Patel said, adding that this is common for mobile phones that are still in the development process.
Changing the User Experience
Even though the Windows operating system is still being developed and the final product will probably not be the same as the prototype, it is a good representation of where smartphones are headed, said Alex Spektor, an analyst with Strategy Analytics.
"The key change is the user experience," Spektor told TechNewsWorld.
Microsoft's earlier mobile phone operating systems targeted business users more than consumers, focusing on calendar and email applications.
"There was not any friendliness with respect to design," Spector said. The new mobile phones are focusing more on the customer, integrating social media and video.
"You are going to see a phone with much better media applications," he said.
Mobile Handheld Computing
The smartphone market has gotten very crowded in the last year, and this new operating system will help Microsoft regain an upper hand that both developers and consumers are enthusiatic about, said Charles King, principal analyst at Pund-IT.
"The most fascinating part in my mind is where the market is headed. Developers are starting to move away from smartphones to what the folks at Intel are calling 'mobile handheld computing,'" King told TechNewsWorld. "There couldn't be a better time for Microsoft to be jumping into this area with a fully featured mobile operating system."
Moving Away From Menus
Smartphones — such as Google's Nexus One Android — are moving away from menus and toward widgets, said Maribel Lopez, principal analyst at Lopez Research.
In the Windows Phone 7 platform, they are called "tiles."
"They've got all of these little buttons," Lopez told TechNewsWorld. "This is a big departure for Microsoft."
The OS does a good job of blending a business smartphone with a consumer phone, providing all the benefits of social networking, media and gaming, while allowing the use of enteprise software, noted Lopez.
However, the holiday season is still a long way off, and Microsoft's competitors will undoubtedly unveil new versions of smartphones before then.
"It's highly likely that [Microsoft] will be behind the curve by the time the holiday season arrives," Lopez said. "The way to look at this, however, is that it keeps them in the game."
Starting Fresh With New Customers
All the changes under way with the new Microsoft mobile operating system will probably mean that users with older Windows-based smartphones will not be able to upgrade to Windows Phone 7 Series when it is released, according to Lopez.
Microsoft would not confirm this; spokesperson Ryan Bartholomew told TechNewsWorld that the software giant is enforcing a strict set of hardware requirements for the new smartphone operating system and older smartphones may not satisfy the requirements.
That should not be a big concern for Microsoft, Lopez said, since its mobile operating system does not currently have a very large share of the market.
"It gives Microsoft the opportunity to start fresh with new customers," she said.