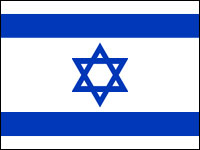 Military strikes between Israeli forces and Gazan militants have been particularly intense in recent days, and that aggression has spilled over onto Twitter.
The verified Twitter account of the Israeli Defense Forces has been tweeting a running commentary about its campaign against militants in Gaza. Militants in Gaza — both literally and figuratively — are firing back.
As The Guardian reports, the tweets coincide with the death of Hamas military leader Ahmed al-Jaabari.
Things started innocently enough, at least as far as military-based Twitter spats go: The Israeli Defense Forces' Twitter account said that the two main goals of the operation that killed Jaabari are to protect Israeli civilians and to cripple terrorist infrastructure in the "#Gaza Strip."
Hamas' military wing posted its own hash tag-laden response, tweeting that an Israeli military base had been hit with dozens of mortars in response to the assassination of its leader.
Israel retorted that no Hamas operatives should "show their faces above ground" in the coming days. Not to be outdone, Hamas replied that Israel had "Opened Hell Gates on Yourselves".
The Israeli Defense Forces fired the final salvo — for now — with this tweet, which showed a twitpic photo of Jaabari with word "Eliminated".
Google Objects to Doogle
A 23-year-old South African entrepreneur received a letter from Google threatening legal action because the logo and name of his website, "Doogle," are too similar to Google.
According to MemeBurn — and originally reported in Afrikaans by South African outlet Beeld — Google has requested that Doogle cease using its logo and cancel its domain name, which was registered in December 2010.
Google claims Doogle was "confusingly similar" to trademarks it owns in South Africa. Google says that the website and name are so similar that it could be mistaken for something affiliated with Google.
Doogle is primarily a dictionary and job site.
MemeBurn spoke with Google's head of communications and public affairs in Sub Saharan Africa, Julie Taylor, who, while declining to comment on this particular case, said that Google was passionate about protecting its reputation.
YouView Has Naming Issue
YouView, a British digital TV service, is facing a legal challenge over its name.
According to The Financial Times, the High Court in London upheld an earlier ruling that declared YouView's name "confusingly similar" to a British business-to-business billing service called "Your View," which is owned by telecommunications company Total.
Total registered its "Your View" brand in 2009. In 2010, YouView, which lets users watch online services through their TV, tried to trademark its brand, as well. This led to two years of delays before the company finally launched in September.
Total will likely seek an injunction against YouView's name and, if it gets its way, force the company to rebrand. Total is also seeking damages and costs.
Facebook Takes Issue With Facefood
This is the last potentially-confusing-name-that-possibly-infringes-on-trademark story of the day. Promise.
Facebook is examining the use of a sign that bears a strong resemblance to its own logo, according to the BBC.
The sign in question belongs to Facefood, a juice bar and bakery in Wales. The manager of the store said that Facefood had not contacted Facebook about the facade outside the venue, which despite opening this week has made the rounds on social media.