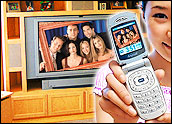 The battle between Blu-ray and HD DVD may be settling down at last, but in the mobile TV arena another competition is just getting under way.
Two different mobile digital television technologies will enter testing this year, each backed by a different set of vendors. In one camp, there's the A-VSB platform developed by Samsung Electronics and Rohde & Schwarz; in the other, it's the MPH (Mobile-Pedestrian-Handheld) platform, jointly developed by LG Electronics and Harris.
Both have performed well in preliminary technical trials conducted by members of the Open Mobile Video Coalition industry alliance, the group said. Ultimately, however, only one will be chosen by the Advanced Television Systems Committee standards-setting body as the official U.S. standard for mobile digital TV, Gerry Kaufhold, principal analyst with In-Stat, told TechNewsWorld.
Test Marketing
The focus of the new testing, announced Tuesday at CES in Las Vegas, is to perform additional technical trials and also see how each mobile system fares with consumers, the OMVC said.
"Broadcasters are focused on launching mobile digital television services in 2009, and these consumer trials are a critical component of our due diligence to determine the best way to offer mobile television to consumers," said OMVC chairman Brandon Burgess.
To test the two formats, OMVC and the leaders of each set of trials will select a sample of consumers in several test markets to receive and test mobile video content on devices such as cell phones, personal media players and laptop computers. These consumers will be able to watch a selection of local and national content and interactive services, and their usage will be tracked to monitor and better understand their preferences.
At the end of the trial, the OMVC and its partners will use the results to support the launch of mobile digital television services targeted for 2009, OMVC said. Whatever they offer will be based on whichever standard is selected by the ATSC, Kaufhold added.
Varying Standards
Japanese consumers already have access to mobile digital TV because their existing standard, called "Integrated Services Digital Broadcasting-Terrestrial" (ISDB-T), proved robust enough to allow the broadcasting of content onto mobile devices, Kaufhold said.
The older U.S. ATSC standard, however, did not. It is for that reason that the new standard, which will be dubbed "ATSC-M/H" (for Mobile/Handheld), must be developed before products can be rolled out, he added.
MPH and A-VSB are both responses to the ATSC's May 2007 request for proposals for the upcoming standard. Both are designed specifically for broadcasting to mobile phones, car seat-back TVs and other portable devices using a portion of the digital channels broadcasters will use exclusively beginning in February 2009.
The A-VSB approach is not completely backwards-compatible with the old ATSC standard, Kaufhold noted. Though that probably won't be a big problem since the standard is aimed specifically at mobile, "it's still a topic of discussion, at least," he said.
The MPH approach, on the other hand, is backwards-compatible and simply adds to the existing ATSC standard, Kaufhold said.
History of Reconciliation
Vendors on both sides are clearly champing at the bit to roll out services, but the process could take time, Kaufhold noted. Indeed, the ATSC is well accustomed to weighing the merits of competing alternatives, dating back to its selection of the existing ATSC standard, which involved "dramatic" compromise.
Federal Communications Commission Chairman Richard Wiley played a key role in achieving that solution, Kaufhold added. "If that history points to what will happen in the future, I'd think the ATSC will find a way to reconcile the two approaches and come up with another best-of-both-worlds approach," he said.
"We'll see how it all wraps up," Kaufhold concluded. "It's not a war yet, but the ATSC has a lot of work cut out for them."
Open Questions
Whichever standard ultimately gets chosen, it remains to be seen who will be providing mobile video content, and to what kinds of devices, David Chamberlain, a principal analyst also with In-Stat, told TechNewsWorld.
"Right now we've got this cell phone mindset, but what this does is provide the local broadcasters with a way to bypass the whole cell-phone thing," Chamberlain explained.
There is currently a "train wreck" in the mobile video arena, with so many different types of handsets and questions as to who advertisers should pay for their ads, he added. "Nobody really gets it, but everybody gets the old video model."
What could well happen, then — and what consumers surveyed by In-Stat suggested they'd prefer — is the ability to view mobile digital TV on specialized, consumer-purchased players, without any involvement of cell phones at all, he said.
"We could end up watching TV just the way we've been accustomed to watching it with rabbit ears all these years," Chamberlain concluded.