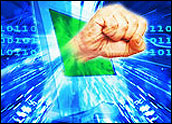 Gary McKinnon, a 46-year-old British computer hacker who admits to accessing U.S. government computers in 2002, will not be extradited to the U.S.
According to the BBC, the UK home secretary, Theresa May, said that McKinnon is "seriously ill" and that the extradition request should be withdrawn.
McKinnon says he hacked the U.S. computers searching for evidence of UFOs. If convicted in the U.S., he would have faced 60 years in jail.
Noting that McKinnon has Asperger's syndrome and depression, May said the extradition denial boiled down to human rights. It is unclear whether McKinnon will face charges in the UK.
Google Privacy Questioned
European privacy regulators have threatened fines and other penalties if Google doesn't provide clearer information about its privacy policy and modify its data collection tools.
According to The New York Times, European data-protection agencies sent a 27-page letter to Google's chief executive Larry Page. European regulators want Google to give users a better idea of what personal data it collects and how it disseminates that information to advertisers.
Google implemented new privacy policies in March. As PCMag.com explains, the change consolidated dozens of Google policies and began using a single profile across all its service: If you log into Gmail, say, you're logged into YouTube, as well.
However, the EU justice commissioner announced in March that Google's privacy changes were in breach of EU law. The European Commission subsequently asked France's privacy agency to conduct an analysis, resulting in the recent letter to Page which claims that Google does not provide adequate disclosure about how it stores and processes data.
A member of France's data-protection body said that Google's "new privacy policy allows an unprecedented combination of data across different Google services."
European authorities have been on Google's case for months. In addition to the ongoing privacy complaints, there are the antitrust complaints. In May, for instance, the European Commission told Google that the company may have breached EU antitrust laws. Google later extended an olive branch — OK, it was really just a letter — saying that they were eager to satisfy EC concerns. Within days, however, the EC doubled down on its complaints and said that Google's Android platform had been added to the antitrust probe.
Foxconn and Uneraged Interns
Electronics manufacturer Foxconn said that it discovered underaged interns working at one of its factories in China, according to the Associated Press.
The interns, as young as 14, were discovered during a company investigation at a plant in the eastern city of Yantai. They were reportedly sent back to school.
China's minimum working age is 16.
In the grand scheme, underaged interns is nothing compared to other news surrounding Foxconn. Employees have committed group suicides, engaged in riots and, in at least one instance, had parts of brain removed after a factory mishap.
Aside from worker unrest and/or abuse, Foxconn is best known for producing iPhones and iPads. The company also produces products for Microsoft and HP.
Huawei: US Report Won't Phase Business
Chinese telecommunications company Huawei said that a recent U.S. House Intelligence Committee report, which labeled Huawei and fellow Chinese telecommunications company ZTE security threats, won't affect Huawei's international business.
According to Reuters, the U.S. ruling prompted Canada and the UK to investigate Huawei, the world's No. 2 telecommunications equipment vendor, as well as ZTE, No. 5 in the world.
Even so, Huawei's senior vice president, Zhang Chunxiang, said that he doesn't anticipate there being any impact on the company's overseas business. Zhang also ribbed U.S. investigators, saying "they investigated like they never investigated at all."