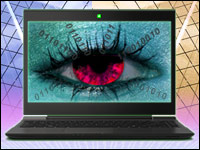 Gary McKinnon, the British man who hacked into U.S. government files to search for evidence of UFOs, will not face prosecution in the United Kingdom.
In October, UK officials rejected the United States' extradition request in the decade-old case.
Naked Security reports that the UK's most recent decision will apparently end the McKinnon controversy, which has prompted a series of celebrities — including Sting, Pink Floyd guitarist David Gilmour, London mayor Boris Johnson and others — to back McKinnon.
McKinnon, 46, has been diagnosed with Asperger's Syndrome.
Europe Explores Higher Phone Rates
To spur more investment in high-speed broadband networks, European regulators are considering increasing the cost of leasing landline grids from mobile operators.
The New York Times reports that the move is a departure from Europe's recent mobile regulations, which have focused on finding ways to reduce costs.
The plan, spearheaded by the EU Commissioner Neelie Kroes, is being presented as a way to stimulate spending which maintaining competitiveness. The proposal would call for the European Commission, which is the executive arm of the EU, to regulate the fees that mobile operators cough up to lease grids belonging to landline operators.
Not everyone is on board, however. Vittorio Colao, the CEO of Britain's Vodafone, said that the plan could cause a "re-monopolization" of the business. He said that landline operators could use the additional revenue to lower their prices, thereby squeezing companies like Vodafone.
Chinese Social Media to Charge for Third-Party Ads
Sina Weibo, China's eminent social media platform and a kindred spirit of Twitter, is asking account-holders who use its service to advertise for third parties to hand over 20 percent of their revenue. If not, the links embedded in their posts could be blocked.
TechNode gives the example of Selected Jokes, a Sina Weibo account that has accrued more than 10.5 million followers by posting jokes. The account is run by Du Zijian, who helps run several Weibo accounts that, cumulatively, have millions upon millions of followers.
Du and others have for the past year accepted advertising deals from companies looking for exposure — a practice that could soon get costlier.
Taobao Receives Nod From US
China's e-commerce store Taobao and Internet company Sohu have been removed from the U.S. Trade Representatives' list of major piracy offenders.
Tech In Asia reports that Taobao was previously deemed responsible for "the widespread availability of counterfeit and pirated goods in its electronics marketplace."
A spokesman for Taobao thanked the USTR for acknowledging the site's efforts.
Sohu, meanwhile, which offers a search engine, gaming platform and other online services, was credited with making "notable efforts" to limit bunk content, according to Bloomberg.
Alas, even if Taobao's electronics marketplace has been expunged of counterfeit products, Tech In Asia points out that a five-second search on Taobao yields a slew of fake fashion merchandise.