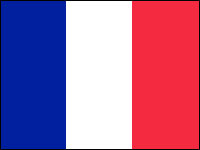 France's top administrative court ruled that Google must display a notice on its French search page saying that the company was fined by a local privacy watchdog.
Google plans to fight the fine, but will have to adorn its Google.fr page with the humiliating message in the meantime.
In January, French privacy regulators followed through on previous threats by fining Google 150,000 euros, or roughly US$200,000.
France's privacy watchdog, CNIL, is miffed with Google's collection and storage of data across various Google platforms, such as YouTube, Google+ and Gmail. Thanks to a March 2012 overhaul that rolled 60 privacy policies into one, users are unable to opt out of Google's data orgy.
The nature of this data collection, CNIL claims, violates French law.
Of course, $200,000 is a drop in the bucket for Google's multibillion-dollar empire, but European regulations cap the amount of money countries can fine for privacy infringements. Germany ran into the same problem last summer, claiming that Google had executed "one of the biggest known data protection violations in history," and then laying down the hammer with a 150,000 euros fine.
The Netherlands, Spain, Britain and Italy also have hit Google with privacy-related fines.
Somewhat comically, the link on Google.fr that led to CNIL's decision caused CNIL's servers to crash under the weight of the traffic.
[Source: The Globe and Mail]
Flappy Birds Creator Removes App, Says It Ruined His Life
Nguyen Ha Dong, the 29-year-old Vietnamese man who created the intensely popular mobile game Flappy Bird, has removed it from Google Play and the App Store.
Why? Well, according to Nguyen, it ruined his life.
The game was first available last year but hit critical mass earlier this year, when it became one of the smartphone world's top downloads. It was downloaded more than 50 million times from the App Store alone. The game was so successful that it was, according to Nguyen, racking up $50,000 in advertising revenue per day.
While this would be many an app developer's dream, Nguyen said on Saturday tweeted that the success "ruins my simple life." He added that he would take the game down — and he has.
Nguyen denied that the death of Flappy Bird has anything to do with copyright issues — e.g., that Flappy Bird was too close to other mobile games predicated on birds.
[Source: The Associated Press]
Mine Mission: NASA Collaborates With Private Companies to Mine Moon
NASA is working with private companies to begin exploring whether the moon contains valuable resources such as helium-3 and rare earth metals.
Initial proposals for the Lunar Cargo Transportation and Landing by Soft Touchdown program, or Lunar CATALYST, are due Monday.
[Source: Phys.org via The Verge]
Icelanders to Receive Digital Currency – Maybe
Iceland's 330,000 citizens will be eligible to receive virtual coins, called "Auroracoins," in a March 24 digital-currency giveaway.
The idea to line the pockets of Icelanders with digital currency was concocted by entrepreneur Baldur Odinsson, whose company currently is creating — "mining" is the most appropriate term — the currency. As with other virtual currencies, the value of Auroracoins is pegged to Bitcoin.
Odinsson hopes the digital currency will help restore value to the Iceland krona.
If that sounds too good to be true — well, maybe it is. In Iceland, news reports suggest that Baldur Odinsson is a pseudonym; that the company behind the project is based in Panama; and that Icelandic regulations could prevent people from converting Auroracoins into other forms of digital cash. So… maybe there is no such thing as free money after all.
[Source: BBC]