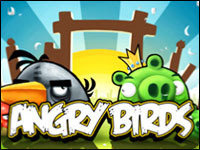 Don't get angry, but…
U.S. and British intelligence agencies have long been mining data from smartphone apps such as the wildly popular Angry Birds.
The National Security Agency and its British brethren at the Government Communications Headquarters, or GCHQ, have targeted the swell of data moving to and fro on mobile apps, The New York Times reported, citing previously secret documents leaked by Edward Snowden. The surveillance endeavor dates back to 2007, according to the Times.
It looks as though no Internet-connected domain is off-limits: In December, reports surfaced that the NSA was trying to collect data by meddling around in videogames such as World of Warcraft.
[Source: The New York Times]
Asia Hot Topic in Apple's Earnings Report
Apple announced quarterly earnings of US$57.6 billion in revenue and $13.1 billion in profit, touching off loads of discussion about Asia.
The Greater China area — which includes Hong Kong, Taiwan and Macau, in addition to mainland China — produced $8.8 billion in revenue for Apple, up nearly $2 billion from the same period a year earlier. Revenue in Japan grew (a bit) to $4.9 billion; the rest of the Asia Pacific accounted for $3.6 billion.
Apple was "very pleased" with its performance in emerging markets, said CFO Peter Oppenheimer.
CEO Tim Cook noted that the company's deal with China Mobile, which recently began selling Apple phones, was off to an "incredible start."
Even so, Apple missed projections on iPhone sales, leaving some with a sour taste. The company's stock dipped in after-hours trading.
[Sources: Tech In Asia, The Wall Street Journal]
Chinese Site Tracks New Year Migration
The Chinese New Year marks mankind's biggest annual migration, and Baidu, China's top search engine, has taken to tracking the comings-and-goings of the hundreds of millions who are moving around the country.
The movement is typically from urban areas to the countryside, as people who relocated to cities make the trek to visit family. To illustrate this phenomenon, Baidu is offering hourly updates to an interactive map that shows from where data requests are being made. Thicker, brighter lines represent the busiest travel routes.
[Source: BBC]
China's Moon Mission Not Doing So Hot
Mechanical problems have beset China's first-ever lunar rover, threatening to derail the country's first moon-based rover mission.
The rover, launched last month, is on a mission to survey resources and send data back to the Middle Kingdom.
The current problems reportedly stem from the probe's process for shutting down during the lunar night, which is about 15 days long. The probe is solar-powered, so during such sunless lulls — when temps can reach -292 degrees Fahrenheit — it must rely on a radioactive power source to keep equipment and sensors functioning.
Lunar dust may have prevented one of the solar panels from properly turtling, thereby exposing it to crippingly low temperatures, suggests one explanation making the rounds on the Web.
The program's microblog account has attracted more than 150,000 followers, who over the weekend were treated to this grim note: "Sorry to make you all sad. The engineers and I haven't given up yet."
[Source: The Globe and Mail]
FBI Busts Up International Email Hacking Ring
In collaboration with law enforcement around the world, a slew of email hackers have been arrested, according to the FBI.
The suspects are said to have compromised a total of almost 9,000 email accounts since 2011.
Authorities in China, India and Romania joined the effort, arresting the proprietors of sites such as hiretohack.net, hirehacker.net and anonymity.com.
[Source: The Register]