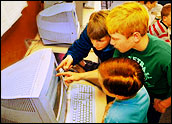 Some people are objecting to North American Aerospace Defense Command online updates on the whereabouts of Santa.
The Campaign for a Commercial Free Childhood is particularly off-put by a video that shows Santa's sleigh being escorted by fighter jets (roughly the :24 mark).
NORAD maintains that the images are safe for children, pointing out that it has depicted jets accompanying Santa, Rudolph and Co. since the 1960s. NORAD also notes that for what it's worth, the planes depicted in the video — Canadian Air Force CF-18s — are unarmed.
Last year, NORAD's where-is-Santa updates attracted more than 22 million unique visitors to its website. The project also accumulated 1.2 million Facebook followers and 129,000 Twitter followers.
The brouhaha has, if nothing else, driven oodles of traffic to the NORAD video: After some paltry late-November traffic, the video has now been viewed some 277,000 times.
[Source: The Associated Press]
Yahoo, NBC Universal Strike Olympic Deal
Yahoo and NBC Universal announced that their digital content and promotion partnership has been extended to include digital video rights to the 2014 Winter Games to be held in Sochi, Russia, in February.
Yahoo will be incorporating a multitude of platforms and products into the NBC broadcasts, including Flickr and Tumblr.
NBC and Yahoo announced that they were teaming up to share content last December.
Qualcomm Rebuffs Chinese Claims
A week after China touted its antitrust evidence against Qualcomm, the U.S.-based tech giant put out a statement denying wrongdoing.
If all goes wrong for Qualcomm, China's antitrust investigation could result in a US$1 billion-plus fine for the company. The chipmaker won't take the accusations sitting down, however, saying it believes its business practices are legal and pro-competitive.
It's hard to say for sure, but it's valid to ask if China's pursuit of Qualcomm has something to do with the U.S. dragging Chinese telecommunications companies through the mud last year.
[Source: The Register]
Study Points to Swelling E-Waste
People around the world will spit out increasing loads of electronic waste, according to a UN study.
The study forecasts that annual e-waste — by definition, anything that has a battery or a cord — will grow by one-third by 2017. Such items, which include televisions, refrigerators, phones and more, contain substances that are potentially harmful to humans and the environment.
E-waste, according to a UN think tank, will rise from about 49 million metric tons in 2012 to more than 65 million metric tons in 2017. The U.S. leads the way, having generated 9.4 million metric tons of e-waste last year, followed by China's 7.3 million metric tons. Alas, the U.S. is even more egregious on a per-capita basis — Americans account for about 66 pounds of high-tech garbage per person; China's at about 12 pound per person. Globally, the average is about 15.4 pounds.
[Source: The Associated Press viaThe Age]
Intel Jersey Ad Sees Light of Day
Neymar was the first player to pimp Intel's ad placed inside jerseys for FC Barcelona.
The Brazilian start celebrated a goal on Saturday by flipping his jersey inside-out, thus revealing the "Intel Inside" logo that Intel has placed inside Barcelona's digs.
Intel reportedly struck a five-year, $25 million advertising partnership with Barcelona, which won Saturday's match 2-1.
[Source: The Washington Post]