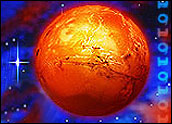 While the U.S. and France haven't exactly been chums of late when it comes to tech, the two countries are teaming up for a new mission to explore Mars.
The plan is to send an unmanned lander to Mars to study the interior of the planet. The mission will launch in 2016, with the lander touching down six months later.
At least that's the plan: Two years ago, NASA pulled out of a European partnership to send a probe and lander to Mars.
France and the U.S. have had plenty of digital disagreements of late. France, for instance, has objected to Google News'dissemination of French news; Amazon's book pricing and delivery; Google's privacy policies; and NSA surveillance.
The U.S., meanwhile, torpedoed France's efforts to get the G20 to crack down on tech companies' international tax avoidance, further souring things between the U.S. and France.
[Source: AFP via The Age]
Militant Islamist Group Implores Followers to Pray for Sochi Earthquake
A local branch of the Caucasus Emirate, a militant Islamist group, made an online plea to followers to pray for an earthquake in Sochi during the 2014 Olympics.
The group's logic, apparently, is that an earthquake in Sochi would help avenge Muslims who died fighting "Russian infidels." Caucasus Emirate, which is waging an insurgency to promote an Islamist state in Russia's North Caucasus, previously had implored supporters to attack the Games with conventional, as opposed to divine tactics.
"Games of the atheists and pagans!" the group's online screed read."The pigs are so arrogant that they decided to host the Games on the ground where our ancestors shed their blood to defend Islam and Muslims."
There have as yet been no earthquakes during the Winter Games.
[Source: Reuters]
Radiohead Launches Smartphone, Tablet App
Infinitely popular British rock outfit Radiohead launched PolyFauna, the band's very own smartphone and tablet app for iPhone, iPad and Android.
The app is an "experimental collaboration," according to Radiohead frontman Thom Yorke, and "comes from an interest in early computer life-experiments and the imagined creatures of our subconscious."
Translated into less spacey prose, that means users can move around and follow a red dot appearing on a device's screen.
Radiohead has an interesting history with the digital sphere. Last year, the band yanked its music from streaming service Spotify. In 2007, the group made its newest album available online and told fans to pay what they wanted to.
American pop star Lady Gaga and Iceland's Bjrk also have launched their own apps, so don't be surprised if this becomes a thing.
[Source: Radiohead via The Guardian]
Adidas, Under Armour Head to Court Over Workout Devices
German sportswear giant Adidas filed a lawsuit against U.S.-based Under Armour, claiming that Under Armour infringed patents relating to electronic workout devices.
Adidas' suit specifically pertains to products created by fitness technology company MapMyFitness, which was acquired by Under Armour in November for US$150 million. Adidas is miffed that the MapMyFitness products so closely resemble its own miCoach devices, which offer real-time audible coaching and a Web app to help people feel the maximum burn.
The suit, filed in a Delaware court, asserts that Under Armour and MapMyFitness willfully infringed on Adidas's 10 patents.
[Source: Reuters]