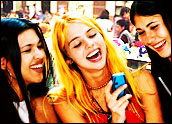 Travel tools for the road include some of the killer apps that have driven the smartphone market, like mapping. However, the ball and chain is the cost of getting that data outside of your home market.
For example, U.S. carrier Sprint currently charges a whopping US$19.45 per megabyte to use its GSM data roaming agreements in Europe. At that price, one photograph sent to a family member back at home could cost you more than 40 bucks. There are alternatives, though.
Step 1
Contact your domestic carrier and arrange for your smartphone to be unlocked for use off-network. If your carrier won't unlock the phone because it's too new, and it hasn't recouped its subsidy, you can buy the equipment you need at your destination.
If you do that, be aware that there is a difference between pay-as-you-go equipment that's usually locked to a carrier and SIM-free gear that isn't locked but is more expensive.
If you end up with a carrier-locked phone and want to use an alternative carrier's SIM card, you will be able to find hole-in-the wall unlocking stores around major tourist areas like bus stations.
Step 2
Remove the SIM card from your existing phone at the same time the flight crew tell you to place your phone onto flight-safe mode. The SIM card is usually behind the battery.
Don't put the card back into the phone until you're back on U.S. soil.
Step 3
Locate a phone retailer at your destination. Multicarrier retailers are prevalent in many countries. In Holland, one such retailer is called "The Phone House." In the UK, you'll find "The Carphone Warehouse."
Individual carriers with corporate-owned stores are on most shopping streets and include T-Mobile and Vodafone in the UK and Holland, and SFR and Orange in France.
Data prices offered at aggregator stores are the same as at carrier-specific stores.
Step 4
Research rates by looking for "Pay as You Go Tariffs." This research step will be easier in the UK for language reasons, and UK rates are competitive. Identify the lowest per-MB data rates over the longest period. Packages expire commonly after one day, week or month.
A typical deal would be Orange France's 9 euro unlimited smartphone data for one month, or T-Mobile UK's unlimited Pounds 5 for one month. Fair use limits may come into play. Web-only deals are common.
Step 5
Purchase a carrier-specific SIM card from the store. The cards range in cost from free to 20 euros (US$28.87) and can include some credit. You can load the card with credit in the store, or at a post office or at another retailer.
Be aware that crossing a border triggers roaming agreements. So, look for roaming data rates too if you are moving around.
Vodafone UK offers 25 MB for Pounds 2 (US$3.26) for roaming throughout Europe, which works out to Pounds 0.08 (US$0.13) per MB.
T-Mobile UK offers 20 MB for Pounds 5 (US$8.16) over seven days, working out to Pounds 0.25 per MB (US$0.41).
Be aware of tricks: Vodafone will kick you into a higher per-MB rate if you exceed 25 MB in one day. However, T-Mobile will just give you an opportunity to buy another 20 MB bundle when you hit the limit.
Warning: Be careful how much cash you initially load onto the SIM card. In some cases — with Orange France, for example — until your data package is provisioned, you will be buying your data at full rates and you'll use up any spare credit. Provisioning can take up to 48 hours.
Want to Ask a Tech Question?
Is there a piece of tech equipment you'd like to know to operate properly? Is there a gadget that's got you confounded?
Please send your tech questions to me, and I'll try to answer as many as possible in this column.
And use the Talkback feature below to add your comments!