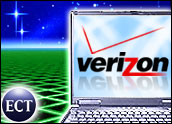 A new FiOS (fiber optic service) from Verizon features upload and download speeds of up to 20 megabits per second (Mb/s), the company announced Tuesday.
Using a 20Mb/s upstream broadband connection, the symmetrical service could enable a consumer to upload a 250 MB file of 200 photos in about 90 seconds, Verizon said, compared with about 47 minutes over a 768 kilobits per second (Kb/s) upstream connection. It is the first service of its kind commercially available to U.S. consumers on a mass scale, the company added.
"Verizon's new 20/20 FiOS service blows cable away," said Susan Retta, vice president of broadband solutions for Verizon. "Their upload speeds don't even come close."
Video Applications
The new FiOS service is now available in New York, New Jersey and Connecticut for US$64.99 a month. Verizon plans to offer similar symmetrical services soon in the other 13 states where it offers FiOS. It will roll out a similar small-business offer as well.
The equally fast upload and download speed of the service enhances interactive services like video conferencing, online multi-player gaming, telemedicine, electronic home monitoring, online work collaboration and data backups, the company said.
In a medical application, for instance, a 500 MB medical imaging data set could upload in less than four minutes, compared with about 90 minutes over a 768 Kb/s connection. A 3 GB file such as a one-hour video shot with a high-definition video camera can be uploaded in around 20 minutes, compared with more than nine hours with 768 Kb/s upstream, Verizon said.
Comprehensive Security
The symmetrical FiOS service includes a comprehensive Internet security suite plus 1 GB of network-based backup at no additional charge. Customers who subscribe can upgrade their backup to as much as 50 GB.
"For more than a decade, the Internet has been defined by how quickly you can download content," Retta said. "Our 20/20 FiOS service changes everything by creating an entirely new category of U.S. broadband where 'fast' means fast in both directions.
"FiOS customers don't have to wait for a new technology standard that's years away to fully participate in today's interactive Web," she added. "Our new FiOS service will encourage applications developers to create even more ways for consumers to benefit from immense upstream connectivity."
'Impressive' Specs
The specs on Verizon's offer are "impressive" and the price reasonable. However, the market demand, at least in the near term, is still unknown, Roger Kay, president of Endpoint Technologies Associates, told TechNewsWorld.
"The main thing that kind of speed enables is high-resolution streaming video, but I think most households are not at the point of looking for that yet," Kay noted.
Verizon also doesn't offer programming consistently, Kay said. Given that most cable companies offer the "trifecta" of phone, TV and Internet services, it's not clear if consumers will be willing to pay for a FiOS in addition, he said.
"I guess if you don't have Internet already and don't care about programming, it could be the way to go," Kay added.
Links in the Chain
The other issue with a service like this is that its speeds are a function of the weakest link in the chain, Kay noted. "You can have a great network, but if there are issues at the content end — or in your house or anywhere down the line — then you're not going to get the complete experience," he explained.
Indeed, "to get 20 megabits per second both ways, you'd have to be right next to the equipment," Allyn Hall, a director with In-Stat, told TechNewsWorld.
It will make photo-sharing a little faster and easier, but most users won't experience the advertised maximum speeds, he agreed.
Still, it is a step on the way to speeds that promise to change broadband, Hall added.
"We're starting to get fast enough to make video on-demand and other rich content practical," he said. "20 megabits per second is a pretty big step."