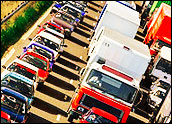 Environmentalists were jubilant last week when the Supreme Court ruled that the Environmental Protection Agency (EPA) could regulate automobile emissions, and now a trial beginning Tuesday in Vermont could carry that momentum even further.
Vermont is one of 10 other states that have chosen to follow California's strict emissions regulations, and for that reason it is being sued by a group of auto manufacturers and industry associations who say such decisions should not be made on the state level.
Historically, California has been the only state with authority to set standards different from those set by the EPA because of its particularly urgent smog problems. Other states were given a choice between following California's standards or abiding by those set at the federal level. Connecticut, Maine, Massachusetts, New Jersey, New York, Oregon, Rhode Island and Washington have also followed California's lead.
Giving Power to the EPA
Automobiles' emissions of carbon dioxide gases is widely regarded as one of the principal contributors to global warming.
The Bush administration's stance has been that the Clean Air Act does not allow the EPA to regulate greenhouse gases; instead, it said that the U.S. Department of Transportation had sole authority to set fuel economy standards.
However, last Monday, in Massachusetts v. EPA, the Supreme Court disagreed.
Following the decision, the EPA announced that California could proceed with its plans to reduce tailpipe emissions from cars, light trucks and sport utility vehicles, which will set the country's first such standards and pave the way for other states, such as Vermont, to follow suit.
A Question of Authority
That's not news the auto makers had wanted to hear.
"We believe that only the federal government — specifically the National Highway Traffic Safety Administration, now in conjunction with the EPA — has the authority to set fuel efficiency standards," Charles Territo, a spokesperson for the Alliance of Automobile Manufacturers, told TechNewsWorld.
The alliance is one of the groups suing Vermont over emissions standards, as are General Motors and DaimlerChrysler.
"We believe that the Energy Policy and Conservation Act, which is the law in place now, pre-empts states from setting their own standards for fuel economy," Territo added.
While lawyers defending Vermont's new emissions limits had argued that the Supreme Court ruling in Massachusetts v. EPA essentially settled the Vermont lawsuit, auto groups disagreed.
The auto groups' case against Vermont and other states following California's standards was filed more than three years ago, Territo said, and was originally stayed in the California courts. Vermont's U.S. District Judge William Sessions decided last Wednesday to allow the court to proceed in Vermont.
'Up to the States'
"We thought this was an important case even before the Supreme Court decision last week," Vermont Attorney General William H. Sorrell told TechNewsWorld. "Given that news, it's become critically important."
It's up to individual states to push regulations that will help combat global warming, he noted. "I think states have to stand up when the Bush EPA has been so reluctant to be aggressive in environmental protections," Sorrell said. "Our government is not 'one-size-fits-all,' and it's expected that states can move ahead of the federal government–that's in part how we function."
Vermont has a long history of environmental protection, he added, pointing to its longstanding ban on highway billboards. "We're the most rural state, and we probably have the smallest number of motor vehicles in the country," he noted, "but if you don't start somewhere, you can't significantly address this very real problem."