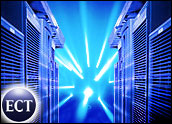 VMware on Monday unveiled the latest version in its ESX Server line at its VMworld 2007 conference, held this week in San Francisco. The next-generation thin hypervisor, VMware ESX Server 3i, has the backing of industry heavyweights such as Dell, HP, IBM and NEC, all of whom have committed to integrating the software into their server hardware.
"In the six years and three product generations since its release, VMware ESX Server has become an industry-defining product, acclaimed for its quality and functionality," said Raghu Raghuram, vice president of products and solutions at VMware.
"Today, WMware is ushering in a new era where virtualization software is not separate from server hardware; it is simply how industry-standard servers operate. We have worked with our partners to integrate VMware ESX Server directly into their server hardware. Now customers will be able to turn on their virtualization-enabled servers and boot directly into a fully-functioning hypervisor," he continued.
The change from an add-on option to a built-in element, according to Raghuram, is an advance the company expects will simplify virtualization and "make it more easily accessible" to enterprises as they update their IT infrastructure. With the increasing usage of multi-core systems, virtualization "will no longer be viewed as an optional capability."
Virtually Speaking
Using virtualization software enables users to simultaneously run more than one operating system and its applications on a single computer. On a server, virtualization has many of the same benefits allowing a server to take on the tasks of several machines by allocating resources to handle the increased load.
"We're seeing virtualization mature faster on the servers than it is on the desktop," John Enck, an analyst at Gartner, told TechNewsWorld. "It is deployed more often. There are are more product choices. There are different types of technologies."
For businesses, adding the ability for their servers to undertake the virtual double duty saves money in terms of hardware costs, energy bills and personnel.
"The value proposition on server virtualization allows you to maximize your resources," Enck explained. "Right now, a lot of servers are sitting out there running at 10, 15 percent utilization, and they've got all this unused capacity. Virtualization allows you to take your existing server resources and really drive up usage of them so that instead of running at 10 percent utilization running one task you can have three, four or five different tasks running in there and drive utilization up to 60 percent and really just get more money for your investment."
Virtualization Inside
The first hardware-integrated hypervisor, VMware built ESX Server 3i is built on a next-generation thin architecture that the company said will give businesses an "efficient foundation for building a dynamic and automated data center." The software has been trimmed down so that now it only requires a scant 32 megabytes as opposed to the 11 gigabytes need in previous versions. Built-in Flash memory enables users to deploy or shut down ESX Server 3i in a few minutes according to their needs.
The "bare metal" hypervisor partitions a physical server into multiple secure and portable virtual machines. It is designed for optimal scalability and performance and also provides "unmated security, reliability and manageability," VMware said.
The release is a glimpse of the future, Al Gillen, an IDC analyst, told TechNewsWorld.
"As we go forward, it is more likely that hypervisors become more integrated with the underlying hardware," he explained. "This is kind of a step along that continuum to have the hypervisor be very much an integral component of the server itself rather than as a bolt-on."
It is very similar to the way BIOS (basic input/output system) is today, Gillen said. People do not really talk about their BIOS any longer, but years ago that was a question people posed.
"Going forward 10 or five years from now, it is very likely that people won't say 'what hypervisor are you using,' but they will say 'what do you do with your hypervisor," he continued.
Broader Horizons
The agreements VMware struck with leading hardware makers to build the virtualization software into their machines is a big boost of the company, Enck said, because it takes the application from a value-added purchase that companies had to make a buy-or-do-not-buy decision on, load onto their servers and then deploy into an option they can simply turn on and off.
"That gives it a much broader usage. People will be able to have it and then they can decide later whether they want to use it or not," he pointed out. "They'll be more inclined to say 'Well, I've got it right here, why don't I just use it?' Versus having to make that decision at purchase time, it will definitely broaden usage."
With Microsoft planning to release its own server operating system with built-in virtualization next year, and Linux's XenSource on the market but struggling to take hold, VMware has a real advantage with this competitive move, he said.
"Microsoft has a hypervisor technology they are going to bring forward, but it is not going to be disaggregated from the operating system the way the VMware solution is going to be," Gillen noted. "The bigger picture here is that you see companies wrangling, jockeying for position. And the hypervisor is a lead-in for selling the value-add on top of the hypervisor. And if VMware can be successful in getting its hypervisor broadly used in the industry it makes it harder for Microsoft to get the hypervisor layer."
"VMware is trying to get as broad of an installed base as it can in advance of the Linux and Microsoft initiatives because once you make a commitment to the VMware technology, you're going to be less likely to purchase something from Microsoft or Linux," Enck concluded.