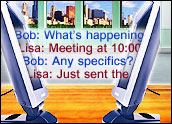 Enterprises have begun to recognize that instant messaging can be a useful tool to help improve employee productivity. The ability to instantly determine where an employee, supplier or customer is at any time, coupled with the tools to exchange information with the person instantly, can cut down on response time, reduce errors, and improve customer satisfaction.
To further encourage use of IM systems, suppliers recently enhanced their products so that they support voice communications as well as text messaging. "Often when individuals use IM, they want to pick up the phone and talk with the person for a minute or two," said Nick Shelness, senior analyst with market research company Ferris Research.
While this feature could be beneficial in the corporate market, IM has been slow to take hold there. In fact, only 18 percent of companies have deployed internal instant messaging systems, Nucleus Research recently found.
"IM has been widely adopted in a few niches," noted Rebecca Wettemann, the firm's vice president of research. "Technology and communications companies have been the most aggressive users; finance and manufacturing seem to be other vertical industries where it is popular."
IM Enhances Work Teams
Enterprises may be surprised to discover that IM meshes with new corporate initiatives. Organizations are looking to keep pace with competitors by developing multi-functional work teams. Instant messaging enables employees to rapidly build teams and to identify experts and resources that are available as new projects unfold.
One of the emerging technology's draws is that it enables employees to spend less time tracking down needed information, so they can more effectively respond to items such as e-mail messages or last-minute job-related tasks.
Another consideration is that employees now work with a wide range of input devices. As they handle cellular phones, personal digital assistants and smartphones, they expect them to work with audio information, file transfers and structured text in real-time.
Once vendors couple their IM systems with Voice over Internet Protocol capabilities, users have integrated communication exchanges. This is typically accomplished by adding support for the Session Initiation Protocol (SIP) to IM services.
New Entrants Shake Up IM Market
This new functionality is coming from nontraditional sources. "Most of the established IM services are based on an e-mail foundation, and therefore cannot easily handle voice functions," Ferris Research's Shelness told TechNewsWorld.
Consequently, Skype, which has several million users, and Google, which offers GoogleTalk, have been trying to carve out a niche in the messaging space by adding voice features to their IM services.
Enterprises are finding more choices available for internal IM/VoIP systems. Network equipment vendors including Avaya, Nortel and Siemens have expanded their unified communications systems, which typically integrate voice and data functions in applications like conferencing, so they include IM functionality.
IM gateway vendors Akonix, FaceTime and IMlogic, recently acquired by Symantec, offer integration tools that let IT executives add voice IM features to corporate applications.
Microsoft, IBM Enter IM/VoIP Arena
In addition, Microsoft's Live Communications Server 2005 can exchange data with public IM services from AOL, Microsoft and Yahoo. The Microsoft product, which works with SIP, also enables the integration of IM functionality into other Microsoft applications, most notably Office.
IBM provides Lotus Workplace Team Collaboration and has been developing an SIP infrastructure for reuse with a variety of IBM products. The company offers integrated synchronous and asynchronous collaboration and includes IM, Web conferencing, team spaces, and development products and tools so companies can embed IM in enterprise applications.
Bantu, an enterprise IM product, works with WebEx Communications and Microsoft's Office Live Meeting conferencing systems, so users can launch a conference from within a Bantu instant message. They also can call someone simply by clicking on an audio link — and, in both cases, IM lets users know whether the person or people they need to meet with are available.
Proprietary Approach Thwarts Use
As these products make their way to market, the vendors must address a few limitations. In the IM space, vendors typically rely on proprietary protocols, so it is difficult to mix and match different IM services. "Companies have been using IM more for internal communication than for external communication," noted Nucleus Research's Wettemann.
Also, there are some organizational issues that corporations need to address. "If an enterprise has trouble enforcing a 'no personal calls or e-mails' policy, then IM may not be a good fit," Nucleus Research's Wettemann told TechNewsWorld. In this case, a company could limit IM use to key executives or technically savvy employees, such as those who work in the IT department.
A company's stance on e-mail is also important. If e-mail use is encouraged as an open means of communication both top down and bottom up, instant messenger is often a natural complement. If firms have more formal hierarchical approaches, IM may not be a good fit.
Despite the limitations, use of IM and voice function is expected to grow during the next few years. "The coupling of IM and voice features seems to be a natural evolution, one that more and more corporations will take advantage of," concluded Ferris Research's Shelness.