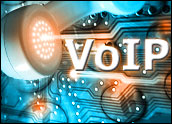 It's now a well-known fact that on the Internet, no one knows you're a dog, but when it comes to Internet telephony, the bigger concern is that no one might know where you are either. Dial 911 for emergency assistance, and you could be out of luck, as some well-publicized lawsuits have shown.
Voice over Internet Protocol, or VoIP, is a rapidly expanding service with myriad benefits — cost being at the top of the list — and a growing number of customers. There were some 10.6 million VoIP subscribers in the United States at the end of 2006, and that number is expected to reach 15.9 million by the end of this year, Keith Nissen, principal analyst with In-Stat, told TechNewsWorld.
Worldwide, there were 50 million subscribers at the end of last year, with 78 million likely by the end of 2007.
However, the many advantages of VoIP come with potential safety concerns due to the fact that emergency dispatchers can't necessarily tell where a call for help is coming from. "People tend to think phone service is phone service — if it quacks like a duck, it must be a duck," Patrick Monaghan, a senior analyst for Yankee Group, told TechNewsWorld. "In reality, VoIP service is slightly different, and the public is not as aware of this as they should be."
Enhanced 911
Americans make more than 200 million 911 calls each year, according to the National Emergency Number Association (NENA). About half of those calls are from wireless phones. Ten percent of U.S. households, in fact, have abandoned their landlines in favor of wireless or VoIP, NENA says.
Enhanced 911, or E911, is what allows emergency dispatchers to connect a caller's phone number with their address, at least under ordinary, landline-based circumstances. The not-insubstantial benefit of that service is that precious time is saved, since the caller doesn't have to spell that information out in an emergency.
With wireless calls and VoIP, it's not so straightforward. After some cases in which the issue led to deadly consequences, the Federal Communications Commission (FCC) mandated in 2005 that providers of interconnected VoIP services give customers emergency calling capabilities, including a way to give callers' addresses and phone numbers to dispatchers. Providers are also required to deliver all 911 calls to the local emergency call center, and to inform customers about the limitations of their services.
In situations where the customer can only use the VoIP service from home — and when they have kept their registered address up to date, which is the customer's burden — that system mostly works fine. Indeed, cable companies providing VoIP tend to offer that service only on a fixed, geographic basis, thereby eliminating much of the problem, Nissen said.
Mobile Woes
However, there are still situations where problems can arise, such as when the service is one that can be used from anywhere. Just as with cellular phones, even if you have registered your current address, there's nothing to say that that's where you're calling from. A built-in global positioning system (GPS) can alleviate that problem, but those technologies are by no means ubiquitous yet.
"I would expect that within a few years the cost of GPS technology will come down to a point where most cell phones will have it," Nissen said. "Eventually, all portable devices will have GPS capability, and that will take care of the situation on mobile VoIP too. Ultimately I think it will fix itself, but we're not quite there yet."
In the meantime, carriers like Vonage have had to establish agreements with the phone and cable companies and to invest considerable sums implementing E911 capabilities.
The fact that customers are responsible for keeping their address information up to date is another current problem. They may forget to update the information, or even if they do make the change, there can be a lag time before the new information makes it into the system. "A VoIP customer may register their address with the provider but then move — say from Georgia to Oregon," Monaghan explained. "It's possible the Atlanta fire department could show up at their old house."
Don't Bet on It
Then again, even under the best circumstances with up-to-date address information, if the power goes out, VoIP capabilities do too. "If your power is out or your Internet connection is down, be aware that your VoIP service may not work," the FCC warns. "Consider installing a backup power supply, maintaining a traditional phone line, or having a wireless phone as a backup."
The bottom line: "911 industry leaders recommend that you keep your traditional phone line in addition to your VoIP phone service in order to successfully access 911 services and to have telephone access during a power outage," according to NENA's 911VoIP.org.
In other words, VoIP is great, but don't count on it in an emergency.
A New Player
In July, a new player emerged in the VoIP market that says its offering, due in the fall, solves those problems. Based on a peer-to-peer VoIP network, Ooma will offer a hybrid service in which customers can use both VoIP and the traditional telephone network by interconnecting their landline with Ooma's service.
After paying a onetime fee of US$399 for the "Ooma Hub," customers will get free domestic calling for life. Every Hub then becomes part of the distributed Ooma network, and customers with connected landlines provide local gateways to the public switched telephone network (PSTN). One result is that Ooma can avoid many of the termination fees most VoIP providers must pay to the phone companies.
Ooma customers also get a free second line, a broadband answering machine and a customized dial tone for no extra charge.
Roughly half of all VoIP customers keep a landline for 911 purposes anyway, and Ooma's offering will allow them switch seamlessly between their landline and VoIP, Ooma CEO Andrew Frame told TechNewsWorld. "If your Internet connection goes down, you'll simply hear the regular dial tone as opposed to the Ooma dial tone," he explained. "It's the best of both worlds."
Increased Requirements
"Ooma is interesting from the standpoint that the way they're going about solving the problem isn't really by solving it but by using traditional telephony for 911 calling," Monaghan said. "For Ooma customers, it does address the problem."
The FCC is currently in the process of considering increased location accuracy and reliability requirements for both wireless and VoIP providers, FCC spokesperson Robert Kenny told TechNewsWorld. Included among the measures being considered is a requirement that providers of mobile VoIP services use an automatic location technology that meets the same accuracy standards that apply to providers of commercial mobile radio services.
Kenny declined to comment on Ooma's solution, or to provide details on the measures being considered.
NENA, meanwhile, is planning a summit on 911 location technologies in the coming months to examine many of the same issues.
Until significant changes are made, however, it appears that reports of the landline's impending demise have been greatly exaggerated. "If the landline is disappearing," Frame concluded, "wouldn't you think VoIP users would be first ones to lose it?"