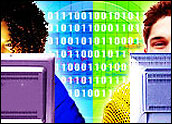 Rather than move for an all-out frontal assault, voice over IP (VoIP) service providers are flanking the traditional telecommunications companies. In building their businesses, the VoIP providers — which develop products that let customers make telephone calls over the Internet — are not trying to convince every business and consumer that their services are best for every purpose, but instead are focusing on select groups, such as international customers and calling-card users, to gain market traction.
Lower pricing and more features have been lures that VoIP vendors have used to entice customers to try and then buy their services. But those potential benefits have not always been realized, and Internet telephone calls have their own downsides, such as poor call quality in some cases, incomplete integration with existing voice services and lack of coverage in certain places.
As a result, VoIP proponents have been struggling to work their services into the mainstream. "Only 2 percent of all business calls now travel over VoIP lines," said Daryl Schoolar, a senior analyst with In-Stat/MDR, a subsidiary of Reed Elsevier NV.
Pricing Ups and Downs
Telecommunications pricing has been extremely volatile during the past few years. When VoIP emerged in the late 1990s, startup carriers, such as ITXC and Net2Phone, anticipated rapid growth because their services would cost must less than existing services supported by the Public Switched Telephone Network (PSTN).
At the time, domestic long-distance charges were about 12 cents per minute, which the startups promised to lower to around 5 cents per minute, savings that most companies and consumers would find appealing.
But established long-distance companies responded to the new threat with programs that reduced their prices to about 7 cents per minute for consumers. Large businesses were able to drive the cost even lower, and government users now pay 2 cents to 4 cents per minute for their long-distance calls.
There are a few reasons why the savings were not as significant as anticipated. The PSTN relies on expensive, difficult-to-maintain central office equipment, usually representing million-dollar purchases. Startup VoIP equipment vendors delivered products that cost one-tenth as much.
Building New Networks
However, VoIP service providers were building new networks from scratch, which they found to be an expensive proposition. Service providers not only had to put the network infrastructure in place, but also had to purchase billing and customer-care systems to support their users. Established companies had this infrastructure already in place after long years of development.
Also, customers found that VoIP calls are not as clear as those made over the PSTN. That's because call information routed over the Internet arrives in a scattershot manner, in which data moves from hop to hop only when sufficient bandwidth is available. The result can be perceived lag, static and even garbled conversations. VoIP service quality has often been compared to that of a cell phone. PSTN calls, in contrast, are almost always clearer because information moves across PSTN networks in a more linear fashion.
Additionally, the act of placing a VoIP call can be challenging. On the PSTN, a user must simply pick up a telephone, wait for a dial tone and dial a few numbers. VoIP calls involve downloading software, ensuring it is compatible with a particular PC and then booting it up every time you need to make a call. VoIP services often do not support some standard PSTN technologies, such as caller ID or voice mail.
Customers Ain't Buying
As these limitations became clear, customers balked at adopting the new services en masse. As a result, VoIP carriers encountered financial problems, and high-profile firms, such as Global Crossing and TeleGlobe, filed for bankruptcy. In response, VoIP service providers took steps to improve their products. Rather than have their communications flow freely over the Internet, many built private networks so they could monitor each connection and avoid blips during a conversation.
Carriers also narrowed their marketing focus, with international calls being an area of keen interest. "VoIP services are growing between 70 and 80 percent annually, and much of that growth comes from the attractive rates — they can be 20 to 30 percent less than a PSTN call," said Patrick Christian, a research analyst with TeleGeography, a research division of PriMetrica.
The price disparity stems mainly from origination and termination fees — basically, taxes that countries impose on calls coming from or going to particular places. Another target area has been special voice services, such as calling cards. "Calling cards are a good fit with VoIP because those consumers tend to be quite cost conscious," said Don Van Doren, president of Vanguard Communications.
These and other concentrated efforts should produce positive results. "We expect VoIP business traffic to experience significant growth during the next few years and account for 19 percent of business voice transmissions in 2007," InStat/MDR's Schoolar told TechNewsWorld.