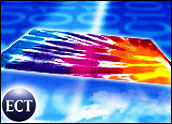 We live in a world where people can now carry their laptop computers around town and plop them down to surf the Web or check e-mail simply by finding a hot spot, a location where a company provides the public with wireless Internet access, often for free. Airports, coffee shops and hotels are some of the places where nomadic computer users can find access to these connections, delivering unprecedented convenience and flexibility.
At the same time, however, hot spots in the U.S. are relatively new and users are often faced with more than a few challenges that make it difficult to rely on them. When traveling to unfamiliar locations, for example, users frequently discover that finding a hot spot can be difficult. Enter "warchalking," a hobo-inspired graphic language for identifying wireless networks locations, designed by users themselves to help fellow would-be surfers.
The evolution of warchalking is similar to other grassroots Internet initiatives. In the summer of 2002, Matt Jones and a group of his online friends were discussing the problems they encountered when searching for hot spots. They felt like refugees traveling from place to place in search of Internet access and recalled the ingenuity of a group of American drifters who moved from town to town, often via railroad, in the early 1900s.
These individuals regularly moved in search of work and developed signs that would identify where longed-for items, such as food, lodging, or work might be found. They placed these signs near railroad tracks and along city streets to help their comrades.
Catering to the Locals
Lead by Jones, the modern day nomads developed a set of symbols that could be written in chalk and placed on buildings or landmarks, such as rocks and street corners, that would outline the route to local hot spots. They tried to piggyback on the local feel found with many hot spots. Grand Haven, Mich.; Philadelphia; and Salem, Mass., for example, have made hot spot services available to residents and visitors, but it can be difficult for them to find and/or reach those locations. A warchalking symbol might notify individuals that 802.11 hot spot service is available between Main Street and Third Avenue, for instance.
Jones and company hoped that their graphic language would be adopted internationally, and that eventually, metal signs with warchalking symbols would direct users to local hot spots. Civic organizations, such as the Kiwanis Club and the Rotary Club, use such sign language to help their members stay in touch as they travel.
Jones relied on his personal Web site to promote the idea. A wave of publicity followed and a few established WiFi hot spot suppliers adopted it. Schlotzsky's Deli, for one, has placed warchalking symbols outside some of its stores and JiWire, a WiFi hot spot directory, uses the symbols to mark various hot spot locations.
The Latest Novelty Act
Yet, three years after the idea took shape, the idea of warchalking for WiFi has evolved into a novelty rather than a widely accepted practice. There are several possible reasons for this: Like other grassroots movements, warchalking lacked clearly stated goals. In addition, the concept plays upon the notion of wardriving, a technique where WLAN users travel up and down city streets in search of access points and then often illegally tap into them.
In fact, there have been cases where users discovered that criminals had tapped into their wireless networks and downloaded child pornography. Consequently, warchalking carries the potential for practitioners to direct wireless users to networks where they are not welcome. Because some individuals and businesses were not sure the practice would be used for legitimate purposes, they shied away from supporting it.
Another issue is warchalking's reliability. "When users need to access wireless LANs, many would not feel comfortable driving around and looking for local landmarks to find them," noted Ken Dulaney, a vice president with market research group Gartner Group. "They want something that offered them more certainty that they would find what they were looking for."
Losing Traction
In fact, that was one of the reasons why a telecommunications voice service that is similar to warchalking failed to gain traction. In the early 1990s, cellular telephone coverage was not as comprehensive as it is today, and the number of pay telephones was on the decline. A service dubbed CT2 emerged which let users make calls using wallet-sized digital cordless phones that would be linked to transmitting units placed in high-traffic areas, such as business parks, shopping districts, fast-food chains and gas stations. Warchalking-like signs were designed to guide users to CT2 units.
"The signs didn't work well even in the U.K. where more people take public transportation and walk than in the U.S.," noted Ira Brodsky, president of wireless market research firm Datacomm Research Co. "U.S. cities are more spread out, so it can be hard for users to spot small signs."
Another reason is that users have discovered other, more efficient ways to find hot spots. Media coverage and word of mouth have been effective in publicizing free wireless nodes in metropolitan areas. In Bryant Park in Manhattan and in the Boston Common, locals have spread the word about hot spot locations, so individuals can easily sit on the grass and surf the Web. Online services, such as JiWire, have emerged as well, with a focus on helping users find WiFi locations. "Carriers like T-Mobile have tried to make it easy for their customers to find local hot spots," Gartner Group's Dulaney told TechNewsWorld.
Laptop vendors have also simplified the process. Once a user opens a laptop, often it will automatically scan the area and identify all of the wireless LANs within range and let the user know whether they are public or private.
While warchalking has garnered some support, it does not seem likely that it will evolve into a common technique for identifying hot spots. "For a couple of years, we've been hearing about warchalking but I don't know of anyone who relies on it," concluded Gartner Group's Dulaney. "Warchalking is an idea with some merit but I expect most users will continue to rely on other ways to find hot spots."