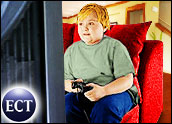 The National Institute on Media and the Family (NIMF) released its 13th annual video game report card Tuesday. The report's findings this year are relatively upbeat, with improved grades for retailers and the ESRB (Entertainment Software Rating Board) for making changes that the institute thinks will decreased the chances that inappropriate games will make their way into the hands of young children.
"The report card presents a snapshot of how the industry is doing in terms of its responsibility to young players. The report card has been a very effective tool over the years to push for some needed reforms. This year's report card reflects a lot of the progress that has been made," said David Walsh, president and founder of the NIMF.
"This is by far the most positive report card the industry has gotten. The ratings are better than ever. All of the console makers have parental controls in the consoles. So the information is there for parents to use," he told TechNewsWorld.
Parents Are the Weakest Link
A recent report from the Federal Trade Commission found that only one out of five children and teenagers who attempted to purchase a game rated "M" for Mature (17 and older) were successful. That's a significant improvement from five years ago. In 2003, some 55 percent of underage youth were able to buy an M-rated game. The Institute gives retailers a "B+" grade.
The ESRB received kudos for its improved ratings system, which provides rating summaries online that offer patents additional information explaining why a game received a certain rating. The summaries are also accessible via mobile devices. The Institute gives the ESRB an "A."
The one area in which there was no significant improvement was with parents. The Institute gave an "Incomplete" rating on parental involvement. Too many parents fail to use game ratings, parental controls and screen time limits created by retailers and console makers, according to the institute, despite the availability of such tools.
"Parents received an 'Incomplete' because now we have to do a better job on our end of using the tools and information that we have. We've given them an incomplete but we must also provide them with the tools they need. This year's report card includes a 'Parents Guide to Video Games' and all of the information they need to do their job is there," Walsh stated.
Parents are having difficulty taking advantage of the resources at their disposal for two reasons, he said.
"They don't always know what games their children are playing. We ask parents if they follow the ratings. They say 'yes.' When we ask the kids if their parents follow the ratings, they say 'sometimes' and also say 'my parents don't know what games I have.' That's particularly as the children get older," Walsh noted.
The second reason, he said, is that parents do not take the issue seriously. That's based partially on the persistent perception that all video games are made for kids.
"They don't think that the games have any impact on kids, despite the growing evidence that they do. And some parents, especially those who are not gamers, do not realize that the industry serves both adults and kids," Walsh continued.
Games That Made the Grade
Among the games the institute calls great for kids (with "E for Everyone" ratings): "All-Star Cheer Squad," "FIFA Soccer '09," "Hasbro Family Game Night," "High School Musical 3: Senior Year Dance," "Little Big Planet," "NBA Live '09," "NCAA Basketball '09" and "Samba de Amigo."
Appropriate T-rated games: "Guitar Hero World Tour," "Rock Band 2," "Rock Revolution," "Shaun White Snowboarding" and "Spider-Man: Web of Shadows."
The Nintendo Wii, released two years ago, has had a major impact on the types of titles game developers have released, according to Walsh.
"The popularity of the Wii is due to a couple of things. You're not just sitting in front of a screen — you move, and it really lends itself to playing games as a group. The games become more of a social activity. That means that there are more family-oriented and, therefore, family-friendly games," he pointed out.
Games the institute said should be avoided by the underage crowd: "Blitz the League II," "Dead Space," "Fallout 3," "Far Cry 2," "Gears of War 2," Left 4 Dead," "Legendary," "Resistance 2," "Saints Row 2" and "Silent Hill: Homecoming."
In addition to paying attention to the ratings and content of the games their children play, parents should also limit the amount of time their kids play video games and watch TV.
"Parents should set a two-hour limit on game playing and TV watching, combined, for children in grades K through 12. Children under 2 should not have any exposure to games, and between the age of 2 and 5, they should play or watch no more than one hour a day," Walsh recommended.