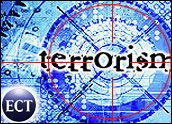 There's no doubt that terrorist organizations are making full use of the Web today to recruit, train, mobilize, publicize and raise funds, but finding and ultimately prosecuting them is no simple matter.
However, with fleeting URLs and anonymous communications, online terrorist activities are an ever-shifting landscape.
"These activities can be spotted, but it's difficult," Herbert Strauss, research vice president at Gartner focusing on national security, told TechNewsWorld. "It's essentially citizens using the Web, operating in code."
Part 1 of this two-part series discusses the eight primary ways in which terrorist organizations use the Internet: conducting psychological warfare; generating publicity and disseminating propaganda; data mining; fund-raising; recruitment and mobilization; networking; sharing information; and planning and coordination. It also discusses terrorists' three primary audiences online: current and potential supporters, international public opinion, and enemy publics, or members of nations a terrorist group is fighting.
E-mail communications can be conducted anonymously using onetime IDs in Internet cafes. In some cases, terrorists may use what's known as "dead drops," where they write an e-mail message and save it as a draft rather than sending it, so that anyone with access to that e-mail account can log in and read it. In such cases, tracking and interception become virtually impossible.
Governments Mum
Every government is monitoring the Web, "but they don't like to talk about it," Strauss added. To wit: "We're very active in terms of our counterterrorism efforts to see the level of activity that's being conducted," FBI spokesperson Paul Bresson told TechNewsWorld. "But we can't elaborate beyond that."
In the European Union, efforts to crack down on terrorist activities online got increased attention in May, when the EU Council called on member countries to support and cooperate on the German-conceived "Check the Web" monitoring initiative.
Some efforts have made the news, such as the FBI Foreign Terrorist Tracking Task Force's recent plans to set up a National Security Branch Analysis Center for data mining.
There have also been some high-profile legal cases that have made headlines, such as that against Briton Babar Ahmad, who is awaiting extradition to the United States to face charges that he ran a network of Web sites for Islamic extremists, U.S. Department of Justice spokesperson Dean Boyd told TechNewsWorld.
The Upside
Some efforts have been developed specifically to counter the effects of terrorists' use of the Internet.
A grassroots effort in the UK called "the Radical Middle Way," for example, seeks to undermine Muslim extremists' message that violence is a legitimate way of practicing Islam.
Partially funded by the government, the Radical Middle Way maintains a Web site featuring presentations by scholars of religion on the tenets of Islam, according to a Spring 2007 report from George Washington University's Homeland Security Policy Institute and the University of Virginia's Critical Incident Analysis Group.
Meanwhile, as part of a new Saudi Arabian law to fight cyber-crime, approved in April, it is now a punishable offense to create a Web site for a terrorist organization.
Search for Key Words
Nevertheless, the road to success in finding and preventing online terrorist efforts is a long, arduous one.
Most governments' efforts focus on monitoring e-mail communications and scanning Web sites for particular key words, Strauss said. When worrisome language is found, subpoenas can be issued, he explained.
Sometimes, though, governments will choose to leave terrorist Web sites alone — "leaving them up is useful for intelligence gathering," Frank Preston, a researcher at the University of Wisconsin who works with a team studying media use in terrorist cell group formation, told TechNewsWorld.
A Question of Focus
Some governments tend to treat terrorist activities as internal issues, while others view them as external ones, Strauss noted. The EU, for example, which has a long history of internal terrorism, including the IRA (Irish Republican Army) and the Basques in Spain, tends to view terrorism on a domestic level, which makes it uncomfortable with the idea of transnational terrorism and the necessity of sharing information about its citizens, he said.
Sometimes, the line between internal and external can blur, too: "A low-level domestic criminal can be an affiliate with a terrorist organization, working for them just periodically," Strauss explained. "These are not neat packages."
Whatever the ultimate intent, significant computing power is required in all such surveillance efforts, as is the cooperation of Internet service providers (ISPs), Strauss noted.
Indeed, just as individuals have an obligation to manage an "orderly house," so too do ISPs, he said. Just as a property owner can have his house seized if it's being used for criminal purposes, so too can an ISP, Strauss added.
Free Speech
Free speech issues can complicate matters even more.
"We have to balance the threats against the free speech rights of Americans," Boyd explained.
"We will bring prosecutions where we can show that online activities extended well beyond normal rights," he explained — in other words, where participants go beyond just discussions or the "normal" spreading of ideology and cross the line into terrorist fund-raising or training in illegal activities, he said.
AT&T in the Hot Seat
However, the line is a fine one. The Electronic Frontier Foundation (EFF) has a class-action suit pending against AT&T, for example, for assistance it provided to the National Security Administration in efforts to root out terrorists online.
Specifically, the EFF alleges that AT&T violated the law and the privacy of customers by cooperating with the NSA in massive, wholesale wiretapping efforts aimed at "millions of ordinary Americans who have no links with terrorists," Kurt Opsahl, senior staff attorney with the EFF, told TechNewsWorld.
"In the last couple of years there have been increasing efforts by the government to have more surveillance and monitoring of a wide variety of communications, including the Internet," Opsahl said.
The Law
"From the government's point of view, that's part of the effort to go after terrorists," he explained. However, "I think we can be both safe and free. We can have an effective program of securing our country against the threat of terrorism without sacrificing the freedom of individuals."
How, specifically? "A good starting point would be to follow the law, and the procedures set forth by the Foreign Intelligence Surveillance Act," Opsahl said.
Many of the issues are just emerging, and more are bound to follow as governments learn to walk this fine line between the defense against external threats and the protection of internal rights.
"It's challenging," Strauss concluded. "There's no real science in this, and governments are sometimes going to get it wrong."