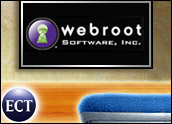 Security providerWebroot on Tuesday released its namesake e-mail security Software as a Service solution.
Targeted at small to medium-sized businesses, Webroot's new offering delivers better protection, lower total cost of ownership, and better value than perimeter security appliances or software, the company said.
"At enterprise-class levels …, security management is difficult and complex — and therefore often unfulfilled," said Mike Irwin, chief operating officer at Boulder, Colo.-based Webroot. "This is especially true in SMBs with limited security resources. SaaS solutions redefine perimeter security by eliminating the pain and cost of hardware and software management."
Never Out of Date
The new SaaS offering is the product of Webroot's November 2007 merger with Email Systems, a leading UK SaaS security provider that protects more than 1,500 businesses and 2.5 million e-mail boxes worldwide.
Unlike appliances or software-based perimeter security, Webroot's e-mail security service is never out of date, and it uses up to five different antivirus and two different spam-filtering engines, Webroot said.
The technology resides outside an organization's network, requiring no additional hardware, software or personnel resources to manage daily security operations. It includes dynamic virus and spam filters to protect against 98 percent of e-mail spam and 100 percent of known viruses, the company said.
Webroot's content-filtering and data-archiving capabilities, meanwhile, prevent data loss and help to fulfill compliance and data storage requirements. Webroot guarantees a 99.999 percent service availability to ensure that customers have access to a secure e-mail communications environment.
Minimal False Positives
The core antivirus solution in Webroot E-Mail Security SaaS comprises five identity-based engines. It employs zero-hour and heuristic filters to seek out and block new infections while blocking 100 percent of known viruses.
The technology also offers seven different levels of spam detection to catch 98 percent of all spam, while multiple filters and connection management block spam and phishing e-mails with the lowest possible rate of false positives, the company said.
Webroot's managed encryption service provides an open standard encryption mechanism through Transport Layer Security (TLS), while also offering desk-to-desk e-mail encryption via public and private keys for added protection.
Image-Filtering Capability
A content control management suite allows users to control where messages are sent and how they should be filtered, based on specified criteria. An image-filtering mechanism, for example, converts images into digital signatures and compares them against known pornographic images, deleting or quarantining those with blacklisted material.
Webroot's business continuity features ensure that off-site resources are constantly active both during normal operation and when disaster strikes. The service enables 28 days of inbound and outbound e-mail to be available from secure, mirrored data stores to end-users via Web mail.
Finally, for archiving purposes, Webroot E-Mail Security SaaS stores organizations' e-mails in duplicate and geographically disparate data centers, thus protecting against physical loss or corruption.
'A Wonderful Idea'
Offering e-mail security as a service "definitely makes sense, particularly for small to medium-sized businesses," Johannes Ullrich, chief technology officer at the SANS Institute, told TechNewsWorld.
"This way you don't have to handle updates yourself, so you don't have to spend too much time on it," he explained.
Indeed, it's like the difference between picking, cleaning and processing strawberries yourself, as opposed to buying them from someone who's done all that for you, Rohit Dhamankar, senior manager of security research withTippingPoint Technologies, told TechNewsWorld.
"I think it's a wonderful idea," Dhamankar said. "The standard way to handle e-mail security has been to install agents on all desktops, which then have to be managed and kept up to date — or they might as well not be there," he explained. "It's a massive management overload.
"With this approach, they're taking all the e-mails and doing all the filtering for you," he added. "It's definitely very welcome."