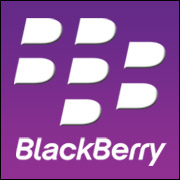 Facebook's US$19 billion purchase of mobile-messaging service WhatsApp appears to have buoyed the value of BlackBerry Messenger — and by extension, BlackBerry.
BlackBerry shares went up nearly 10 percent in after-hours trading because, in the words of Reuters, Facebook's purchase "put a rough valuation metric around the smartphone maker's own BlackBerry Messaging service," also known as "BBM."
WhatsApp came to the party after BBM but flew past its predecessor, which had long refused to open itself up on other platforms. WhatsApp has an estimated user base of 450 million — BBM is at about 80 million — and is compatible with iOS and Android, as well as devices powered by Windows and BlackBerry.
Before the announcement of the WhatsApp deal, financial services outfit Raymond James on Tuesday valued BBM at $240 million, or $3 per user. WhatsApp, however, sold at an amount worth roughly $42 per user, thus making BBM more attractive. Ergo, BBM looks better now than it did Tuesday.
[Source: Reuters]
Europe to Hunt for Exoplanets
The European Space Agency has hatched plans to send a planet-finding satellite outside our solar system by 2024.
The mission, dubbed "PLATO," for "PLAnetary Transits and Oscillations" of stars — will launch a satellite equipped with 34 telescopes and cameras that will be used to scour 1 million nearby stars for signs of orbiting planets.
The goal is to determine the mass and composition of what exoplanets — that is, planets that are outside our solar system. The ESA said that the mission will target planets that are at least Earth-sized and where water could exist.
[Source: The Associated Press]
Apple's China Fortunes Looking Up a Tad
Apple's continued focus on China helped the U.S. tech giant claim a 7 percent share of the world's largest smartphone market in the fourth quarter, up from 6 percent in the third, according to research firm IDC.
The fourth quarter was the first full quarter during which Apple's iPhone 5s and iPhone 5c were available in China. The cheaper 5c — at least cheap for Apple — was seen by some as a stab at the Chinese market, where Apple's prices are particularly prohibitive, given average salaries.
Despite the uptick, however, Apple is still but the fifth-largest smartphone vendor in China. Samsung is No. 1 (19 percent share), followed by Lenovo (13 percent), China-based Coolpad (11 percent) and Huawei (10 percent).
Apple could be in for another bump thanks to its deal with China Mobile, the nation's biggest carrier — like, 760-million-subscribers big — which recently began selling iPhones.
[Source: The Wall Street Journal]
Russian Search Giant Wants Slice of Google's Smartphone Dominance
Yandex, Russia's largest search engine, struck a deal with Microsoft to make Yandex's search engine the default app on Windows Phones sold in Russia.
Yandex announced that smartphone makers Huawei and Explay will pre-install Yandex's search, browsing, maps and music services on their devices.
Android phone sales surpassed 14 million units last year in Russia, so Yandex's maneuvering is thought to be an attempt to keep up with Google. Android currently controls about 80 percent of the country's smartphone markets, according to IDC, while for conventional Web searches, Yandex holds a 62 percent-to-27 percent edge over Google.
[Source: Bloomberg]
Kim Dotcom to Appeal Ruling
If there is an over/under on how long Kim Dotcom's legal drama will continue, just take the over.
The Megaupload founder said he will appeal a court ruling this week that deemed the raid on his home legal. A court previously had ruled the operation illegal because of invalid warrants, but those warrants, used in the January 2012 raid, are now apparently good enough.
Dotcom faces extradition to the U.S., where authorities consider him one of history's great copyright villains.
[Source: The Guardian]