A notable behavioral shift has occurred in the United States over the last few years. Communication methods have changed. One transformation is that people are less dependent on the classic voice telephone call — landline or mobile — and rely more on textual communications like those provided through social networks. Another metamorphosis is the adoption of the smartphone.
For years, pundits have been speculating on how these changes will come into play as information channels in the next major disaster.
Katrina, the 2005 hurricane that ravaged New Orleans, occurred a bit too early in the smartphone and social network cycle to get a reading on the effect of widespread consumer adoption. Facebook was launched a year before Katrina in 2004; Twitter almost a year later than Katrina in 2006; Apple's iPhone debuted in 2007.
Hurricane Sandy, which flattened swaths of the East Coast in October, was arguably the first super-disaster to hit a large, unprepared U.S. population since Katrina.
So, how was information being disseminated during Sandy?
Smartphone Salvation
Post Katrina, embarrassed governments promised escalation of disaster-oriented communications systems, including mobile alerts and so on. However, it was the commercial sector's hardware and software — like the smartphone and Facebook — that came into play during Sandy, and for all intents and purposes, wiped the floor — or sponged it, more appropriately — with traditional delivery methods.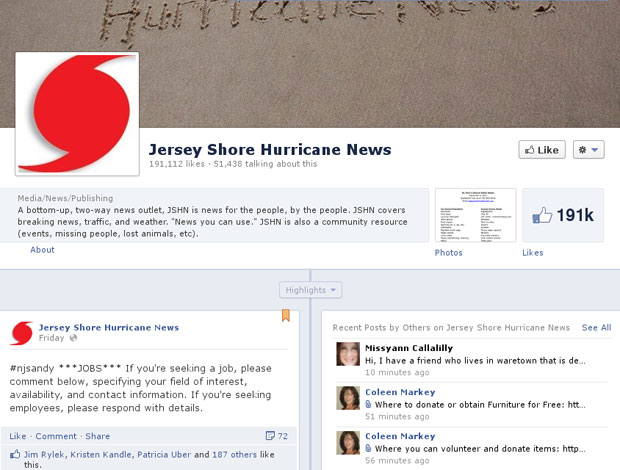 South Seaside Park, N.J., resident Justin Auciello, who started Jersey Shore Hurricane News — a 191,000-Likes bulletin board-style news source on Facebook — reckons his page was the only source of real-time information for many in the disaster area when they were without power.
"Surprisingly, based on anecdotal evidence, many people don't even have a radio, so a connection to a news source that is feeding them information is priceless," Auciello told TechNewsWorld.
JSHN, as one might expect, provided the expected disaster news, but it also strived to cover community events, missing people, job seekers and lost pets. JSHN was established by the time Sandy hit, as it was founded for Hurricane Irene in 2011.
During Sandy, the phone became the logical news-feeding mechanism as people were charging their phones in their cars, Auciello assumed.
Virtual Volunteers
Major NGO American Red Cross also aggressively adopted social networks during and after Sandy, and had already instigated a Digital Volunteer training program after lessons learned during the Haitian earthquake in 2010.
"During Haiti, we were caught off guard by the cries for lifesaving help, trapped underthe rubble, etc., which lead us to start our giving of virtual hugs, social engagementmessages of emotional support to those facing disaster," American Red Cross spokesperson Melanie Pipkin told TechNewsWorld.
American Red Cross created a digital operations center in March of this year, specificallygeared to provide assistance in these kinds of disasters. The operation listens and responds to thosetalking about storms and needs.
Digital volunteers have been trained to work in four-hour shifts, participating in Twitterand other networks using their personal accounts. Knowledge of Tweetdeck, Hootsuite,online forums, TeamLab or similar collaboration tools are prerequisites for the training.
Sandy is the biggest disaster that has occurred since the center opened.
"During Sandy, we were surprised by the appetite for very granular information aboutwhere we are providing services," Pipkin said. "For example, people wanted to know exactly where ourvehicles were, down to the intersection — how long we would be there and what we weredistributing."
Plight of Pets
Jeweler Dixie Louviere was so upset by the pets displaced during Katrina that shewanted to help; she now has a New Orleans-based lost-and-found pets page.
When Sandy slammed ashore, she set up SandysPets, a lost-and-found pet Web page that has picked up more than 27,000 Likes so far.
The Facebook page posts images of lost-and-found pets in areas affected by Sandy. It also provides comprehensive information about shelters thataccept animals. A lot of what the page does is geared toward helping the animal shelters as well.
People who aren't local to the incident can still help through social networking, Louviere pointed out.
"I knew this would be bad," she said of Sandy, "and I was too far away to do anythingelse. I really think that is the beauty of social networking. There are so many people that want to help — and with Facebook, they can help."
Credibility Through Crowd-Sourcing
As do traditional players like newspapers and radio, these new news sources understandthe importance of credibility. Part of that credibility derives fromcrowd-sourcing details from a micro level.
Crowd-sourced reports, coupled with the original reports that kept him from regular sleep during the first week, were vital, noted Jersey Shore Hurricane News' Auciello.
"It's all about power in numbers," he said. "The base was there to report on Sandybefore, during and after."
"It's not just news," Auciello added. "Since it's social, JSHN was able to facilitate rescues, findpeople gas, and direct people to appropriate resources."
This was accomplished bottom-up, two-way — as JSHN describes it in its blurb — amethod that traditional top-down, one-way media and government bodies in chargehistorically haven't been able to provide.
"When a disaster strikes, the lights go out, and your only form of connection to the worldis via your smartphone," Auciello said. "Social media is king."