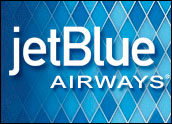 Passengers on JetBlue will soon be able to use e-mail and instant messaging, thanks to a new onboard wireless network the airline will begin testing next week.
Details won't be officially announced until Tuesday, but JetBlue has outfitted one of its Airbus A320 planes — now dubbed "BetaBlue" — with an air-to-ground system featuring wireless hotspots throughout the craft, Sebastian White, a spokesperson for the Forest Hills, N.Y.-based airline, told TechNewsWorld.
BetaBlue will make its first flight on Tuesday from San Francisco to New York and back, White said. If successful, the technology could ultimately be rolled out to JetBlue's entire fleet, he added.
"Customers keep asking us to expand on our product offerings with a service like this," White explained. "We wanted to connect people and take advantage of this new technology."
RIM and Yahoo
The free service will complement JetBlue's current DirecTV and XM Satellite Radio offerings already onboard.
Through partnerships with both Research In Motion (RIM) and Yahoo, it will enable users of WiFi-enabled BlackBerry devices to access e-mail and instant messaging while also allowing laptop users to do the same through a lightweight version of Yahoo services customized for the limited bandwidth available up in the air, White explained.
BlackBerry models that use cellular rather than WiFi won't be able to gain access due to the Federal Communications Commission's (FCC's) continuing ban on in-flight cellular service.
LiveTV, JetBlue's wholly owned subsidiary that installs TVs on its planes, has been working on the technology with Yahoo and RIM, he added.
Random Access
Following the inaugural flight on Tuesday — which is already sold out, White says — BetaBlue will be scheduled randomly throughout JetBlue's transcontinental flights, he said. Because of the difficulties of scheduling, passengers won't be able to request seats on BetaBlue, he added.
"You won't know if you're on a BetaBlue flight until you're on it," he said.
JetBlue has not slated any particular time line or duration for the tests, but they will extend at least over the next few months, White said. During that time, the airline will be gauging customer reactions and tweaking the service accordingly, with an eye toward expanding it down the road.
Widespread Plans
JetBlue appears to be the first U.S. airline to offer in-flight Internet access, but some international carriers have already experimented with such services. German airline Lufthansa, for example, offered Internet from Connexion by Boeing beginning in 2004 but ending at the end of 2006, when Boeing shut Connexion down.
American Airlines recently announced a fee-based Internet access plan for 2008, and Qantas has said it would begin offering connectivity starting August of next year as well. Virgin America, which just launched in August, is partnering with AirCell in an effort aimed at offering air-to-ground broadband Internet service on Virgin America flights sometime in 2008.
Such announcements come at a time when the airline industry as a whole sorely needs to appease travelers frustrated by on-time performance rates, which have been lagging this year. Only 73.69 percent of U.S. flights between January and October 2007 arrived on time — defined as less than 15 minutes late — as opposed to the 75.81 percent that were on time over the same period last year, according to the Bureau of Transportation Statistics.
The Midas Tech Touch
"This might make passengers who are frustrated and angry about delays less angry than they would be otherwise," Donald Schenk, president of Airline Capital Associates, told TechNewsWorld.
Assuming the service remains free, "I think people will love it," Schenk added. "I just hope that it doesn't lead to the ability to use cell phones on airplanes — if it does, I might never fly again."
Nevertheless, JetBlue has a good track record for implementing new technologies, Schenk noted.
"Everything JetBlue does on the technology side has been a winner to date," he said. "I would expect this to be a winner too."