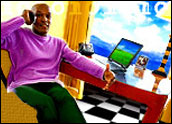 Bill fires up his laptop in the hotel lobby and logs on to the corporate network through a wireless Ethernet link in search of an important e-mail. No luck. After attending a morning meeting with a potential customer, he visits the local coffee shop, where he once again taps into the network but does not find the message. A few hours later, in an airline terminal, he checks his messages and finds that he did indeed land a new account.
Such a scenario is becoming possible with the increasing prevalence of hot spots, locations where companies and the government provide the public with wireless Internet access — free or not. The concept has been gaining acceptance, and analysts expect the number of U.S. locations to grow from the current 10,000 to more than 40,000 in five years.
As hot-spot services become more popular, corporations are experimenting with various business models to justify their deployment. It is fairly straightforward to understand how fee-based WiFi services work, but a surprising number of organizations are delivering them gratis, and that has been generating debate about the validity of their business models.
Government Interference
Government agencies do not have to follow traditional cost-justification exercises. Several agencies feel it is their duty to provide the public with wireless Internet access. The Federal Communications Commission and several local municipalities have begun offering these services in their offices and lobbies.
Airports are another offshoot of the government hot-spot push. Many airports are run by local government agencies and have begun offering wireless access in their largest terminals. In addition, a few airlines themselves have set up wireless links for their customers.
American Airlines, for example, has outfitted its Admirals Club lounges with free WiFi connections. Southeast Airlines has taken that concept a step further, delivering wireless service at its gates. The company has even petitioned the FCC to offer free WiFi service during flights.
Hotels are another place where free WiFi services are taking hold. "Hotels are a very competitive market, and companies think the wireless services will attract a few more customers," Greg Collins, director at market research firm The Dell'Oro Group, told TechNewsWorld. For example, Wyndham International has been moving aggressively to deploy WiFi hot spots, thinking it makes its hotels more attractive to groups planning business conferences.
Coke and a Connection
Restaurants and cafes have been adopting a similar strategy. "Restaurants and coffee shops think that the availability of free WiFi services will lure a few folks into their establishment who end up buying a sandwich or a cup of coffee," Ira Brodsky, principal at Datacomm Research, told TechNewsWorld.
Advertisers have been driving some service deployments, too, forcing users to sit through a handful of banner and pop-up ads before being allowed to use the network. Southeast has taken this approach with its services.
But justifications for free WiFi services are speculative and therefore a bit risky. In the current economic climate, companies are searching for less risky business cases. "In a growing number of instances, companies are putting WiFi services in for their own employees and then opening up their networks to customers," said Scott Drobner, a program director at market research firm InfoTech.
Starbucks is the most famous example of just such a strategy. The company had several managers traveling from store to store. After determining that wireless connections were perfect for them to access the corporate network, the company decided to let its customers use those access points as well.
Ante Up, Please
But there are many reasons why companies balk at delivering free WiFi, starting with the cost of the service. The front-end equipment is relatively inexpensive — a WiFi access point costs a few hundred dollars — and the user is responsible for the laptop or PDA device. The most significant part of the expense can be the back-end connection, which links the WiFi access point to the Internet.
Because there can be multiple users working through the access point, a dial-up connection is typically insufficient. WiFi cards can connect to access points at broadband speeds, so having a broadband connection to the Internet at rates of 1.5 Mbps is the norm. DSL and broadband cable services cost from US$30 to $75 per month, and T1 services often have a monthly charge of a few hundred dollars.
But monthly access fees are not the only expense. With free WiFi access come behind-the-scenes costs that can include support for new users and troubleshooting for downed connections, both of which could be more trouble than the benefit of the added business.
Easing the Installation
Because WiFi access points send signals through walls, it is impossible to prevent users from accessing a free WiFi network provided by a business next door — a reality that could create problems for adjacent property owners. Some neighbors might not want their facilities used as hot spots, and others might want a share of any revenue generated.
Yet another issue for any company choosing to offer WiFi access is security. Because a free access point allows strangers into the network, there is a distinct possibility that a user could — at least unknowingly — introduce a virus into the network.
As a result, free hot-spot services might gain select, rather than universal, acceptance. "Free wireless access seems like a 'no-brainer' for certain companies like hotels," InfoTech's Drobner told TechNewsWorld.
"But there are other markets like fast-food chains where I don't think the technology is a good fit, and therefore I don't think [it] will be widely deployed."