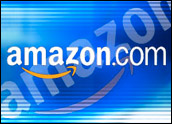 Making good on last week's rumors, Amazon on Monday officially released Amazon Kindle, its new portable reader that wirelessly downloads books, magazines, newspapers and blogs to a crisp, high-resolution electronic paper display.
Priced at US$399, Kindle features electronic paper that looks and reads like real paper, even in bright sunlight, Amazon says. Its wireless delivery system, known as "Amazon Whispernet," uses the same nationwide EVDO (evolution-data optimized) high-speed data network as advanced cell phones, allowing customers to wirelessly shop the Kindle Store, download or receive new content without a PC, WiFi hotspot or syncing.
More than 90,000 books are now available in the Kindle Store, including 101 of 112 current New York Times Best Sellers and New Releases, most for $9.99 each.
"We've been working on Kindle for more than three years," said Jeff Bezos, Amazon.com's founder and CEO. "Our top design objective was for Kindle to disappear in your hands — to get out of the way — so you can enjoy your reading. We also wanted to go beyond the physical book. Kindle is wireless, so whether you're lying in bed or riding a train, you can think of a book, and have it in less than 60 seconds."
Electronic Ink
At 10.3 ounces, Kindle is lighter and thinner than a typical paperback and fits easily in one hand. Its built-in memory, however, stores more than 200 titles, and an optional SD (Secure Digital) memory card expands that even further. The device also includes a standard-layout keyboard.
Kindle's electronic paper technology provides a sharp black-and-white screen by displaying ink particles electronically. It reflects light like ordinary paper and uses no backlight, eliminating the eyestrain and glare associated with other electronic displays.
Books can be downloaded to Kindle in less than a minute, while magazines, newspapers and blogs are delivered to subscribers automatically. Amazon pays for the wireless connectivity so there are no monthly wireless bills, data plans or service commitments. Amazon also backs up a copy of every book consumers purchase so that they can make room for new ones without losing the titles they've already purchased.
Free Trials
Familiar Amazon features such as customer reviews, personalized recommendations and 1-Click purchasing are all available through the Kindle Store, where consumers can search, browse, buy and download wirelessly. For most books, consumers can download and read the first chapter for free.
Monthly Kindle newspaper subscriptions are $5.99 to $14.99 per month, and Kindle magazines are $1.25 to $3.49 per month. All magazines and newspapers include a free two-week trial. Subscriptions are auto-delivered wirelessly to Kindle overnight so that the latest edition is waiting for customers when they wake up in the morning.
Newspapers and magazines available include The New York Times, The Wall Street Journal, The Washington Post, Atlantic Monthly, Time and Fortune, along with top international newspapers such as Le Monde, Frankfurter Allgemeine and The Irish Times.
Long Battery Life
More than 300 blogs available cover topics ranging from Internet and technology to culture, lifestyle and humor, including Slashdot, TechCrunch, BoingBoing, The Onion, The Huffington Post and ESPN blogs. Blogs are updated and downloaded wirelessly throughout the day; delivery costs as little as $0.99 each per month.
Also available on Kindle are built-in access to The New Oxford American Dictionary and Wikipedia.org. With wireless connectivity on, Kindle's battery lasts approximately two days; without it, the device can be used for a week or more without recharging.
"This is the best solution we've seen so far," Richard Shim, research manager for the personal computing program at IDC, told TechNewsWorld. "It's small, the screen is readable, the battery life is measured in days rather than hours — those were all among the big bugaboos with the first generation."
Such features solve many of the issues consumers had with the early generations of e-books, and Kindle adds new benefits such as the ability to store multiple titles, Shim added.
Licensing Questions
On the distribution and service end, too, Amazon "seems to have it covered" with its clout with publishers and its big brand name, Shim said.
Amazon's release is reminiscent of Apple's first iPod, but a few open questions remaining include the impact of the high pricing for the device itself, along with issues of licensing that may arise when consumers want to get digital versions of books they already own in hard copy. "If I buy a hardcover book, in my mind I own the content, but I don't want to have to buy the content again for Kindle," Shim explained.
Nevertheless, it's the most practical offering in the market so far, he added. "Now the question is, with that combination of features, will it flourish?" he noted. "Only time will tell."
The White Problem
With Kindle's white design, Amazon clearly worked from earlier versions of Apple's iPod, Rob Enderle, president and principal analyst with the Enderle Group, told TechNewsWorld.
"They probably should have focused more on what Apple is building now, since the market has moved away from white, but in terms of getting plenty of content for the device and removing the PC from the experience, this moves ahead of where Apple is," Enderle noted.
Eventually, there will likely be unique content written specifically for Kindle, Enderle predicted — "that could be pretty powerful as well."
Wait and See?
Overall, the experience of using Kindle is "very, very close" to reading a real book, Enderle said. A few features, however, suggest Amazon "is still figuring some stuff out," such as the white color and the lack of an integrated light for low-light conditions, he explained. Many content deals will also likely be added over the upcoming year, he added.
For that reason, "for those that don't chase technology, it might be a good idea to wait a year rather than be the first on the block," Enderle concluded.
Ultimately, much of Kindle's success may depend on whether users find the experience close enough to "being curled up in a chair reading a book — it's just not the same with this kind of 'Star Trek' panel," John Barrett, director of research at Parks Associates, told TechNewsWorld.
There are certainly advantages, such as digital distribution and the ability to download hard-to-find content, but "my candid view is that I really struggle to find a use scenario for these kinds of things," Barrett concluded. "I'm still skeptical that the experience can be overcome, even if the eyestrain can be."