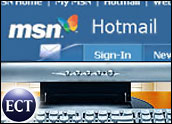 Users of many Microsoft Windows Live services worldwide were hit by an outage on Tuesday that lasted most of the day before Microsoft managed to fix it.
The issue affected the Windows Live ID log-in process and for the most part spared customers who were already logged in, Windows Live product manager Samantha McManus said.
Live ID is the company's service to authenticate users of Live services.
The problem was resolved by the end of the day, Microsoft said, but in the meantime Microsoft's Live Hotmail e-mail service along with instant messaging, photo sharing, calendaring, storage and other services had been affected.
Millions of Users
"Our customers have come to expect a high level of service reliability in their experience with Windows Live and Microsoft worked aggressively to resolve this unique problem as quickly as possible," McManus said. "We apologize for any inconvenience this issue has caused consumers."
Microsoft declined to comment on the cause of the outage, or on how many users were affected. The company lays claim to more than 400 million Live ID users and 280 million Live Hotmail users worldwide.
Reports and comments on the topic on various blogs and forums indicated that most of the United States was affected, along with users in countries including Canada, the United Kingdom, the Netherlands, Honduras, Finland and Japan.
Windows Server Rollout
The outage came just a day before Microsoft's launch of its new Windows Server 2008 operating system for servers, which CEO Steve Ballmer unveiled Wednesday in Los Angeles.
Many Windows Live servers are now running on Windows Server 2008, according to an interview with Bob Muglia, senior vice president of Microsoft's Server and Tools Business, on CNET's News.com, but Microsoft denied that there was any link between the outage and the new operating system.
"We can say with certainty that Windows Server did not contribute to this incident," the company said.
'Bad Timing'
"This is really bad timing," Rob Enderle, president and principal analyst with the Enderle Group, told TechNewsWorld. "This is a platform that does use the new product, and it could have had something to do with the overall deployment of the new technology."
Windows Server 2008 likely isn't fully deployed yet within Microsoft, and "it's not unusual to have at least one major outage during deployment," Enderle noted.
On the other hand, even if the outage did result from the new technology, "this showcases that Microsoft is using their brand-new product in production, and any pain will be felt by them first. Customers really like that," he added.
Communications outages tend to be particularly upsetting to consumers, Enderle noted, but Windows Live services have been relatively reliable over time, he said. "Users will generally tolerate a couple of outages," he said. "It's only when it goes over that that you start having serious problems."