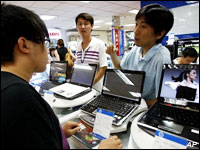 A handful of Chinese Web companies are banding together to provide user support — system upgrades, security services and the like — to domestic users after Microsoft turns out the lights on Windows XP.
Microsoft announced that it's going to punt on Windows XP in early April. Alas, an estimated 25-plus percent of China's computers run on the operating system.
But fear not! Messaging service Tencent, search engine Sogou, software outfit Kingsort and a handful of others are stepping in to fill the void when Microsoft moves on.
As a sign of Windows XP's relevance in the Middle Kingdom, Beijing reportedly urged Microsoft to continue offering support for the increasingly archaic system. In an ambitious role reversal, China turned the tables on Microsoft and said that discontinuing sales of XP would push people toward piracy, something that Microsoft has pleaded with China to help prevent.
[Sources: Xinhua, The Register]
LinkedIn Builds in China – Carefully
LinkedIn's Chinese-language site, rolled out Monday, will restrict certain content so as to not run afoul of Beijing.
The new website will help LinkedIn further penetrate China, a market that has eluded Facebook and Twitter, among others, because of censorship rules (or because those companies refuse to bow to the censorship rules, if you prefer).
LinkedIn supports freedom of expression and "fundamentally disagrees with government censorship," CEO Jeff Weiner said in a blog post. That said, Weiner is loath to deprive China of "a means to connect with others on our global platform, thereby limiting … the economic opportunities, dreams and rights" of the Chinese.
LinkedIn has more than 4 million members in China, one of the company's fastest-growing markets.
[Source: Bloomberg]
Bit Happens: Mt. Gox Offline
Mt. Gox, a major Bitcoin exchange based in Tokyo, went offline Tuesday, apparently because of a major theft of the digital currency.
A report purportedly coming from Mt. Gox suggests that more than 740,000 Bitcoins were heisted.
In an interesting bit of symmetry, Mt. Gox on Sunday removed itself from the board of the Bitcoin Foundation, which is a group advocating for Bitcoins to be recognized as a legit currency.
[Source: The Associated Press]
BlackBerry Unveils Cheaper Phone
BlackBerry on Tuesday unveiled a cheaper smartphone as it seeks to gain a foothold — or at least stop the bleeding.
The new device is being built under a deal with FIH Moible, which is the Hong Kong-listed unit of mega-supplier Foxconn.
The device, codenamed "Jakarta," will first go on sale in Indonesia and will cost less than US$200.
[Source: Reuters]
Deutsche Telekom Launches Encrypted Messaging App
Germany's Deutsche Telekom is releasing an app that will encrypt voice and text messages.
Deutsche Telekom announced last fall that it was getting into the I-don't-want-the-NSA-reading-my-stuff market, which is more fervent in Germany than just about anywhere.
The app, which will use a unique code to protect the messages, will be unveiled officially in mid-March, and will be available on Android devices; iOS devices will come later.
[Source: The Guardian]