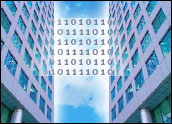 At an airport, one often sees busy executives talking on cell phones and banging away at their laptop keyboards in desperate attempts to finish up a few key items before the flight crew locks the plane door behind them. Airplanes have been an area where cell phone and wireless networks are not allowed, but that may soon change in what would be welcome news for mobile executives.
"I travel frequently during the year to conferences and client sites, and it would be a great help if I were able to access my e-mail and complete a few calls during the flights," stated Craig Mathias, principal at wireless market research firm Farpoint Group.
Finally, it appears that the technology needed to make airborne connections has been falling into place. Vendors have been designing picocells, small, special purpose base stations designed for planes. These devices enable passengers to keep in touch by connecting to satellite networks or bouncing from cellular base stations to cellular base station as planes move toward their destinations.
Making Headway
AirCell is one of the companies at the forefront of this developments. In 1999, it built a proprietary cellular network to support airborne executives and in 2002 augmented that network with a partnership with Iridium Satellite. To date, more than 1,500 aircraft have been equipped with AirCell products, which provide voice, fax, e-mail, data, and Internet connectivity services, including support for Nexrad Corp.'s weather imagery system which helps pilots avoid turbulence.
Three of the world's largest airline fleets, NetJets, Flight Options and CitationShares already rely on the AirCell system to provide mobile access to their passengers.
In addition to airborne network infrastructures being put into place, airplanes are now being built with communications capabilities as well. Song Airlines, a subsidiary of Delta Airlines Inc., has outfitted each seat with digital televisions that are networked so passengers can play games such as trivia challenges. The Boeing Co. and Tenzing Communications have also worked to outfit new airplanes with communications functions, so passengers can use notebook computers or other portable computer devices to send and fetch e-mail or surf the Web. Startup Engim, Inc. has developed special WiFi access point chipsets designed for congested wireless networks, with airlines envisioned as one market that would benefit from the new design.
Meanwhile, however, government regulations have presented major hurdles to deployment of these airline wireless services. The U.S. government has prohibited wireless communications in planes for a few reasons.
"The government has been concerned that mobile phones and computers might interference with onboard communications systems, such as navigation systems, and land-based cellular networks," noted Neil Strother, an industry analyst with In-Stat/MDR Inc.
Overcoming Obstacles
Technical advances are helping to mitigate such concerns. In April, Scandinavian Airlines System AB announced it would allow passengers during flights to use mobile phone functions, such as calendars, address books and reading e-mail, as long as their devices require no signal transmission.
To meet that requirement, passengers must have phones equipped with a flight-safe mode function, which essentially prevents a handset from sending or receiving signals required to make phone calls. Nokia, with its 9210i Communicator, and Sony Ericsson Mobile Communications AB, with its P800 smartphone, are among the first manufacturers to offer handsets with the flight-safe feature.
In the aftermath of Sept. 11, 2001, law enforcement officials were concerned that terrorists and criminals could use the mobile communications in order to perpetrate new crimes. These concerns seem to be dissipating as the government realizes that one regulation probably won't deter any terrorist group focused on launching an attack.
Competitive pressure is also forcing the U.S. government to examine its position. Since 9/11, the domestic airline industry has struggled, and international carriers have forged ahead in supplying wireless functionality.
In 2004, Lufthansa Group started to offer cellular and WiFi services, and the European Union helped to fund WirelessCabin, a consortium to promote use of wireless communications in airplanes. The group features a cross section of companies including Airbus Deutschland, Deutsches Zentrum fur Luftund Raumfahrte V. (DLR), Ericsson Telecomunicazioni SpA, ESYS PLC, Inmarsat KID-Systeme, Siemens AG Austria, TriaGnoSys, and the University of Bradford.
Matter of Time
As the various pieces fall into place, analysts think it is only a matter of time before the U.S. government allows airlines to support cellular and WiFi services. Once that occurs, carriers have to determine who is interested in these services and how to market them. In-Stat found that 44.2 percent of business travelers are interested in in-flight wireless services.
"Not surprisingly, sales, marketing, consulting and research professionals are the most interested in the wireless services," In-Stat's Strother told TechNewsWorld.
About half of the interested executives are willing to pay a premium for the service, but how high the premium is will determine its success or failure. "For years, airlines have offered passengers wireless phone service, like Verizon's Airfone, but few individuals have used them because the price has been so high," said Clint Wheelock, vice president at market research firm The NPD Group.
Airlines also have to be careful about protecting those passengers who will not use the new services. "No one wants to sit next to someone yelling into his or her cell phone during a three hour flight," Farpoint Group's Mathias told TechNewsWorld. The airlines are considering setting up special sections for cell phone users, similar to the smoking areas on planes in the past.
Because there are so many outstanding issues, analysts do not expect domestic flights to offer wireless services in 2005, but they could become available in 2006. If that occurs, the mad rush by executives to wrap up a few business items will dissipate and traveling will become a tad less stressful and perhaps significantly more productive.