Apple raised the curtain on HomePod, its upcoming smart speaker, during Monday's keynote presentation at its Worldwide Developers Conference.
The company also announced some desktop OS features for the iPad, and revealed its plans to become an augmented reality powerhouse.
"Just like iPod reinvented music in our pockets, HomePod is going to reinvent music in our homes," Phil Schiller, Apple's senior vice president for worldwide marketing, told an enthusiastic crowd at the San Jose Convention Center in California.
HomePod, which will sell for US$350, is slightly less than 7 inches tall and is covered with a seamless 3D mesh fabric which, Schiller said, has "incredible acoustic properties."
Inside the speaker, there are seven tweeters, each with their own driver, that give sound precise directional control. HomePod also has a 4-inch woofer that uses dynamic software modeling to eliminate distortion as the volume is cranked up.
The "smarts" of the speaker is from an Apple A8 processor.
"It's perhaps the biggest brain ever in a speaker," Schiller said.
The HomePod will be available in December.
Heat on Sonos and Bose
The processor, which can be found in older iPhones, allows the speaker to do real-time acoustic modeling, audio beam forming and multichannel echo cancellation.
"You don't have to know what any of that is," said Schiller. "Just know that it sounds incredible."
There are six microphones in HomePod, so it can handle voice commands — even when it's playing music — through Apple's digital assistant Siri.
"We really believe it's going to take your home music experience to the next level," Apple CEO Tim Cook said at the event.
Although the smart speaker market is dominated by Amazon and Google, Apple appears to have set its sights on other players in the speaker market.
"It's going after Sonos and Bose sound systems in the home," noted Tim Bajarin, president of Creative Strategies.
"This is a powerful home audio speaker first that also supports Siri," he told TechNewsWorld.
Focus on Music
Apple is positioning HomePod more as an audio device than a smart home interface, said Jonathan Collins, a research director at ABI Research.
"The focus looks to be more about competing with Sonos and supporting Apple's Music service than its HomeKit efforts," he told TechNewsWorld.
"The price tag is notably higher than both Amazon and Google's smart home offerings," he pointed out, "and while it will no doubt appeal to Apple fans, there is little to suggest — at least from the initial details — that this will directly compete against those Echo and Home devices."
More iPad Muscle
In addition to announcing a new 10.5-inch iPad Pro, Apple revealed a number of features in iOS 11, which will be released in the fall, that give the tablets desktop operating features like drag and drop, an expanded dock for quick access to favorite programs, and support of a file system, including baked in support for popular third-party apps like Dropbox and One Drive.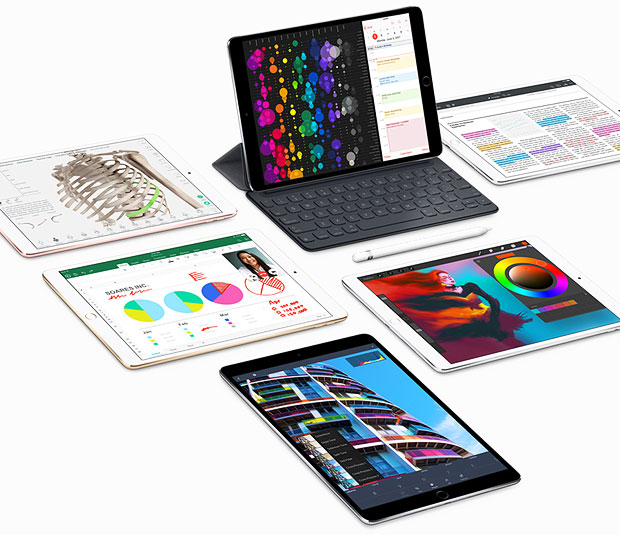 "Those are the features on the Mac that most of us have been wanting on the iPad for at least three years," Creative Strategies' Bajarin said.
"Now the iPad is very similar in experience to the Macintosh," he added. "That tells me that Apple believes that the iPad is the future form factor for mobile computing."
The iOS 11 features were needed if the iPad Pro wanted to live up to its "pro" name, maintained Kevin Krewell, a principal analyst at Tirias Research.
"Without a file manager, you really couldn't use it as a professional tool," he told TechNewsWorld.
"Now the iPad is much more functional for a professional who's used to using a file manager in their work," Krewell added. "This is a big step up for iOS."
AR Powerhouse?
Apple also introduced to developers a new AR kit that it believes will make the company a leader in the augmented reality domain. "With AR kit, iOS 11 becomes the world's largest augmented reality platform," Cook said.
What Apple introduced with AR on mobile is significant, maintained Bajarin.
"They'll dominate the AR space in mobile almost overnight," he said. "The AR kit will create a level of innovation within their software developer community that is going to result in an amazing amount of new apps."
While there may be lots of new apps, whether or not there will be a lot innovation remains to be seen.
"They're not adding any hardware," Krewell noted. "They're just using the existing iPhone platform for AR, so it's a limited version of AR — a better version of Pokemon Go."