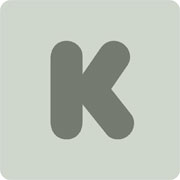 Traditional water heating equipment uses fuel as an energy source to heat a rod-like element in the water tank. The element then warms the water.
If you've ever reheated a hot beverage by placing it in the microwave, you'll have an idea as to the alternatives. Microwave ovens heat liquids by moving molecules so that the molecules hit each other. This action creates heat — a bit like rubbing your hands on a cold day.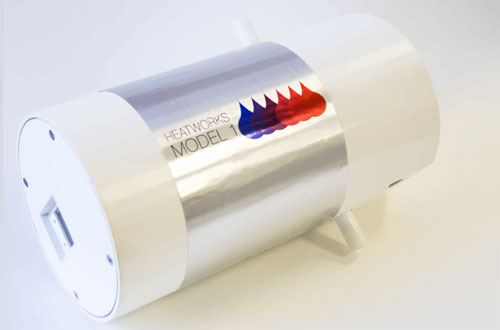 ISI's Heatworks Model 1 water heater, a project looking for funding on Kickstarter at the moment, pitches itself somewhere in between these two existing technologies.
ISI's product uses electronics to directly energize water molecules instead of using a heating element rod, the company says. In other words, the appliance is designed to use water's natural resistance to heat itself.
Technical Details
Graphite electrodes — rather than a traditional convective heating element — are installed in an efficient, tankless water heater. Existing tankless water heaters are generally more efficient than water heaters with tanks because only the required water is heated; tanks heat more than is needed.
The acoustically quiet graphite electrodes in ISI's tank produce two gallons of hot water per minute, and tanks can be installed in series.
The tank measures 12 1/2 inches long by 6 inches in diameter and weighs about 16 lbs.
A WiFi module is planned that will allow for remote measurement and control of power and temperature.
Tagline: "Your next water heater."
The Numbers
ISI Technology currently has more than 300 backers for its water heater project pledging more than US$80,000 of a $125,000 goal. The funding period ends Feb. 16, 2014.
A pledge of $225 gets you a Heatworks Model 1. Note that a $395 retail price is proposed for the final product. Estimated delivery is in May 2014.
The Upsides
Theoretically, this equipment should provide efficiencies — not least because minerals in water bind themselves to the heating rods in classic heaters, thus reducing rod life. If there's no rod, the heater should last longer.
The arguments in favor of this product are compelling, and if you've ever had to call a plumber to replace a failing domestic water heater for no apparent reason — the rods have in fact gotten gunked-up with plating deposits, or have burnt out — you'll know what we mean.
This water heater promises to introduce previously unknown longevity into this arena. Plus, the traditional water heater hasn't changed much, in technological terms, since the days of pot-on-fire.
What we haven't seen before is a replacement for the mechanical flow switch — which ISI promises to deliver through microprocessors — or new, state-of-the-art electrodes that should deliver instant, super-accurate temperature adjustments. Then, too, there's smartphone interactivity, which this product also promises.
The Downsides
The creator needs to be a bit clearer about exactly how its product "directly energizes and heats the water molecule," as opposed to simply heating water ultra-super-efficiently through use of graphite and microprocessors with split-second accuracy. Or is this just marketing gobbledygook?
No annual maintenance and a 3-year warranty is a lofty promise.
While we don't have any reason to doubt ISI's claims, prototyping and testing, we'd like to see some more concrete numbers before ripping out our existing water heating kit and replacing it with this gear — seductive though it is.
The Conclusion
Graphite electrode technology is commonly used in arc furnace steel manufacturing. It's an efficient, responsive technology that can provide high levels of heat along with good electrical conductivity.We look forward to hearing how this rapidly financing Kickstarter project plays out in real-world use.