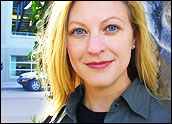 Imagine a world where China argues for guaranteed freedom of speech and Cuba and Iran push for democracy. If that sounds like an episode of "The Twilight Zone," then welcome to UN Secretary General Kofi Annan's new show set to air again next week in Tunisia.
Before anyone starts to think that Chinese and Cuban communists have suddenly become enlightened, or that Iranian theocrats have experienced a moral epiphany, readers should know that the reason these countries are spouting ideas so foreign to them has to do with their deep desire to gain control of a system that threatens their authoritarian ways: the Internet.
Safeguarding Rights
From November 16-18, 2005 governments from around the world will meet for the second phase of the United Nations World Summit on the Information Society. The goal of a coalition of foreign governments is to wrest control of the Internet from the United States, and the goal of the United States should be to gently explain to them why that's not an option.
"While freedom of speech should be guaranteed and human dignity and rights safeguarded by law and system, social responsibilities and obligations should also be advocated," said Wang Xudong, Minister of Information Industry from the People's Republic of China at the first phase of the meetings. If Chinese censorship of the Internet weren't so devastating, Xudong's comments might be comical in their juxtaposition with reality.
Iran's Mohammad Khatami also spoke. "Global management of internet should find a democratic and comprehensive mechanism to enable all players, including the developing countries, to play an effective role in this arena," he said.
There is also something vaguely humorous about a theocratic government so thoroughly supportive of the democratic process. And of course, according to Kofi Annan, the point of the meeting next week is to make sure poor countries get the "full benefits" of new information technologies so as to bring about "economic and social development."
Disturbing Turn
Under the guise of attempting to solve the "digital divide," foreign governments argue that Internet governance should be shared. Exactly how Chinese or Iranian control of the Internet is supposed to help the disadvantaged is left to the imagination. One might respond that property rights and political freedom would be a better way to help their most needy access the Internet.
This week, U.S. Senator Norm Coleman expressed his concerns that the UN is trying to politicize the Internet and he initiated a Senate resolution that essentially supports the current structure of Internet governance. Senator Coleman is right to worry that a UN-controlled Internet would "raise a variety of dangers." And this perspective is perhaps doubly valuable when one considers that he is chairman of the Senate Permanent Subcommittee on Investigations that has been investigating fraud and corruption surrounding the UN's oil-for-food scandal.
It's clear why authoritarian governments don't like the Internet and why they seek to control it — open dialogue poses a threat to their power. But that doesn't explain European reasons for wanting to place the information highway into the precarious hands of the UN. Indeed, when the European Union endorsed UN control of the Net, Carl Bildt, former Swedish prime minister and chairman of Swedish telecom company Teleopti, said it was "a U-turn by the European Union that was as unexpected as it was disturbing." So what gives?
A Catchy Disease
The answer might be called ADS — American Derangement Syndrome, a sister disease to BDS, Bush Derangement Syndrome. Left-leaning cities all across the United States have thousands of people afflicted with BDS, a disease in which suffers hate George Bush so much that their brains cease to function properly. The Europeans have simply contracted a variation that may lead them to endorse the erosion of a network that stands for the classical liberal European values of freedom and prosperity.
Next week, there will be a great deal of pressure for American representatives to capitulate to the bureaucratization of the Net. In order to protect one of the world's greatest inventions from humanity's worst characteristics, the Bush Administration will need to stand strong. It would also help if they could find a cure for ADS so that those who share liberal values can stand together instead of apart.
---
Sonia Arrison
, a TechNewsWorld columnist, is director of Technology Studies at the California-based
Pacific Research Institute
. She also serves on the Technology Advisory Board for the
Acceleration Studies Foundation
.
---