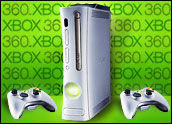 As part of its latest enhancement to the Xbox 360, Microsoft announced Monday it is bringing Windows Live Messenger instant messaging features to Xbox Live, letting gamers text chat with more than 200 million Windows Live Messenger users.
The new IM feature, which will be delivered in a firmware update scheduled for May 7, will let Xbox Live members associate their Live "gamertag" identity with Windows Live Messenger to enable a more connected experience among other gamers, not to mention another form of contact with the outside world.
Microsoft now boasts 6 million Live users, and the company is working hard to build its online component into the stickiest experience it can as it battles for gamer mindshare with Sony's PlayStation 3 and its competing Home online environment.
Building the Foundation
"The online component is now very important, and it's a real revenue stream," Billy Pidgeon, IDC's program manager for the consumer gaming market, told TechNewsWorld. "Plus, there are future ways to monetize it beyond micro-transactions and transactions like advertising and such — that's still a ways off."
Microsoft is taking advantage of the Xbox 360's natural affinity with the PC when it comes to software development, Pidgeon said, and the company is working to link the two. By bringing instant messaging to the television, Microsoft is bridging technology gaps in ever-interesting ways.
"Microsoft Xbox Live is a great user experience and community building tool, and they're just trying to build it out, attract more gamers to go online and join the community," Pidgeon noted. "It sets a bar that Sony will have to meet or surpass."
While Pidgeon said that Sony is currently behind in the online gaming race and is fighting to catch up, Nintendo, with its popular Wii console, isn't looking to compete online at all right now.
"Nintendo will tend to shield their users from bad experiences — cheating, hacking, obscenity, that sort of stuff," Pidgeon explained. "Their primary interest in online is to distribute by catalog software, where they're doing quite well."
New Keyboard
Later this summer, Microsoft says it will launch a mini QWERTY text-input device that will make instant messaging even easier to get into while using an Xbox 360. The device is basically a tiny add-on keyboard that attaches to the middle portion of an Xbox 360 controller, residing between the existing buttons and the user's body.
In addition to the new device, Live members can use the built-in virtual keyboard or attach a USB-based keyboard to the 360 console.
Hundreds of Enhancements Coming
In addition to instant messaging, Microsoft is delivering hundreds of new enhancements and features with its May 7 firmware update, the company said.
Most of the features are enhancements targeted at hardcore gamers and general usability improvements, but Microsoft will also address the long wait for video downloads. After the May 7 update, Live users will be able to view movies while they are downloading from Xbox Live Marketplace, giving customers near-instant gratification.
Microsoft has made great overall strides for online gaming on the console, Pidgeon said. "It's a lot stickier than stuff on the PC," he added. "Retention is rather good."