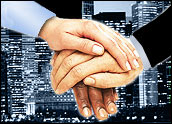 Google, Yahoo and MySpace are forming the nonprofit OpenSocial Foundation to support Google's OpenSocial platform, which allows developers to build software that can run on different social networks.
The companies want to "ensure the neutrality and longevity of OpenSocial as an open, community-governed specification for building social applications across the Web" by establishing the foundation, they said.
Yahoo, a longtime rival of Google in the search engine market, has found a common cause with the search leader in supporting the OpenSocial platform.
'Community-Driven' Specs
"Yahoo believes in supporting community-driven industry specifications and expects that OpenSocial will fuel innovation and make the Web more relevant and more enjoyable to millions of users," said Wade Chambers, Yahoo's vice president of platforms. "Our support builds on similar efforts with the OpenID community, and will expand the opportunity for developers and publishers to benefit from an open and increasingly social Web."
The foundation's Web site will serve as a portal. Engineers from Google, Yahoo and MySpace will be working on the foundation, and the organization should have all assets in place by early July, the companies said.
Google launched OpenSocial in November. The concept offers developers the potential to connect with more than 500 million people globally, the companies noted.
The involvement of all three companies will help to ensure that the foundation lasts "in perpetuity," Yahoo said.
"The real news here — kind of unsaid — is this is Microsoft-repellent for Yahoo," Precursor President Scott Cleland told TechNewsWorld, alluding to Redmond's current offer to buy the No. 2 search engine. "Microsoft is aligned with Facebook, and Facebook isn't part of OpenSocial."
A Subtext to the Deal
There's an obvious subtext to this deal, he continued. "Google says they're worried about Yahoo, that if Microsoft buys Yahoo it will hurt Internet openness. This agreement shows that Yahoo is joining the philosophical camp of Google and not Facebook and Microsoft."
The philosophy at work in this concept centers on technological specifications that allow developers to construct various software applications that will run on different social networks. OpenSocial is Google's answer to Facebook's emergence in the social platform, said Jonah Stein, an analyst with San Francisco-based Alchemist Media.
"Google launched OpenSocial as a kind of counterbalance to the emerging Facebook," Stein told TechNewsWorld. "A lot of smaller players jumped in and really put a lot of pressure on Facebook. Because OpenSocial was gathering momentum, it was natural that Yahoo would want to jump in and create it as a standard."
For users, it's a much friendlier tool, he added. "Right now, if you go to create a profile on a social media site or networking site, you basically have to start from scratch and have to look at all these sites as separate entities. This provides users portability of their content, identity and network, and also simplifies and reduces the effort it takes to be involved in these networks."
Not Just for Standard Social Networks
Taken to its extreme, a user on an OpenSocial-type network might be able to carry data across a spectrum of social networks, from Amazon to Digg, Yelp and others that might not be considered social networks in the traditional sense, Stein said.
"There's a huge potential in the long run as the standards evolve and it becomes easier to move between these networks, and it becomes interesting in how it's going to create an evolution in some of these players," he added.
Michael Tanne, chief executive officer of people search engine Wink.com, told TechNewsWorld that he is keeping an eye on the growth of OpenSocial.
"There are two different things going on," he said. "OpenSocial is intended firstly as a way for applications to operate on different networks so one application can run others, instead of 10 different apps for 10 different social networks."