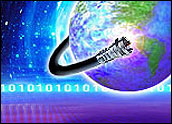 A nationwide study released Tuesday by the Communications Workers of America (CWA) labor union found that Internet connection speeds in the United States have increased little over the past year. The nation's median data download speed gained just 0.4 megabits per second (Mbps), it reported.
At that rate, it will take more than 100 years before the U.S. attains speeds currently found in Japan, according to the CWA.
The CWA's findings are based on aggregated data culled from some 230,000 Internet users who participated in the organization's Speed Matters Speed Test. The test, which measures the last-mile speed of a user's Internet connection, determined that in the U.S., the median real-time download speed was 2.3 Mbps.
That lags significantly behind other industrialized nations such as Japan, with an average download speed of 63 Mbps; South Korea, with 49 Mbps; and France, with 17 Mbps on average.
"Clearly, the United States is far behind the rest of the world when it comes to true high-speed Internet access. We're fifth according to the latest survey from a U.N. agency that measures Internet speeds," Candace Johnson, a CWA spokesperson, TechNewsWorld.
A Turtle, Not a Hare
It will take just four minutes for an Internet user in South Korea to download the same multimedia file that will take nearly 90 minutes to download in the U.S, according to the study.
However, the issue is not necessarily about downloading videos and music, said Johnson. Rather, she maintained, slower Internet speeds in the U.S. could inhibit certain vital technologies.
"It's not about how fast you can download a movie and those sorts of things, but so many applications are not possible with slow Internet speeds. That's what we're hoping these results dramatize to people," she stated.
Technologies such as telemedicine and long-distance learning are not being adopted because people do not have the bandwidth needed to download large data files, she said.
"In telemedicine, the University of Georgia has connected 10 rural hospitals to the university. Lives are truly saved [with this program], as with a premature neonatal care program in Alabama, where mothers who live up to six hours away can have their babies monitored," Johnson noted.
The advent of new Internet technologies such as Verizon's FiOS direct-to-home fiber optics are improving the Internet speeds. However, these new Internet technologies have yet to reach wide availability.
Sketchy Comparison and Satisfied Customers
While the CWA claims to have 230,000 use cases of the speed test, distribution of the testers would impact the national figures calculated, explained Doug Williams, an analyst at JupiterResearch.
In addition, the data was gathered over an entire year, which likely has a downward bias on the averages calculated in the study, according to Williams.
"CWA compares the U.S. average using this speed test to advertised speeds of carriers in other countries, which is not an apples-to-apples comparison. Actual user speeds in those countries may vary, just as they do in the U.S.," Williams told TechNewsWorld.
Also, the CWA's data measures speed rates, not consumer satisfaction. Despite the slower speeds, consumers are generally happy with their current Internet speeds, according to surveys conducted by research firm In-Stat.
"We ask the end users if they are satisfied with their current speed, and 85 percent are very satisfied, Michael Paxton, an In-Stat analyst, told TechNewsWorld. "For the way they use the Internet it is more than enough bandwidth. Unless you're a big downloader or peer-to-peer user, you have enough bandwidth," he explained.
Paxton also disputes the CWA's contention that comparatively slow speeds impede the deployment of Internet-based technologies such as telemedicine.
"They don't prevent [them]. Those applications exist — maybe not down to the household, but between hospitals and a doctor's office or research facility. The applications that I have seen or heard about — most people's broadband connections can handle them," he said.
Population Sprawl
When it comes to broadband infrastructure in the U.S. versus those in other nations, the population spread in the U.S. plays a major role, said Ankur Tarnacha, an analyst with Yankee Group.
"The costs of network deployment in a vast geographic area with lesser return on investment for broadband access providers is the chief inhibitor. The results are high price points for consumers that further slow the broadband uptake," he told TechNewsWorld.
While the government could do more to encourage improvements in the nation's broadband infrastructure, "the key lies in figuring out an appropriate market-based incentive structure that will spur infrastructure deployment," he explained.