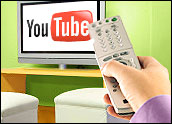 YouTube is adding a local twist to its popular video-sharing site with new versions tailored specifically to the local culture in nine countries, the company announced Tuesday.
Users in Brazil, France, Ireland, Italy, Japan, Netherlands, Poland, Spain and the United Kingdom can now enjoy fully translated, local home pages and search functions when they visit YouTube. Coming soon will be even more localization with country-specific video rankings and comments as well as Video, Channel, Categories and Community sections.
YouTube users in these nine countries will be able to switch seamlessly between the main YouTube.com site and the localized versions, said Sakina Arsiwala, YouTube's international manager.
Content Partners
"Video is universal and allows people around the world to communicate and exchange ideas," said Chad Hurley, YouTube's cofounder and CEO, who announced the new international versions in Paris along with Steven Chen, the site's cofounder and CTO.
"With our announcement today we are expanding upon our already global platform to make it even more relevant for our local communities," Hurley added. "YouTube will now be more accessible and interesting to a worldwide audience, and we look forward to rolling out in other countries in the months to come."
In preparation for the launch, YouTube has signed major international content partners including broadcasters such as the BBC, France 24, the Spanish Antena 3 and Cuatro TV, the Portuguese RTP, the Dutch VPRO and NPO; European football clubs such as Chelsea FC, AC Milan, Barcelona FC and Real Madrid; and nonprofit organizations such as Greenpeace, Friends of the Earth, UNHCR and Medecins du Monde.
Ultimately, the sites will allow users in each country to share and create videos in their local language, discover the most popular and relevant videos in their individual markets, and connect with other local users.
An Advertising Advantage
"From the beginning, we have been totally focused on creating an incredible YouTube user experience and service," said Chen. "We're really excited to now offer that same great service to a global community by bringing them local sites that not only promote their communities but speak their language."
Indeed, with millions of users around the globe and a global reputation, YouTube's move makes a lot of sense from an advertising perspective, Greg Sterling, founder of Sterling Market Intelligence, told TechNewsWorld.
"There really aren't many branded competitors out there," Sterling said. "This is an effort to capitalize on that and create an advertising vehicle that will allow YouTube to attract international advertisers."
UK in the Lead
"YouTube has become a worldwide phenomenon, and this is something they just have to do if they want to expand their presence," added Michael Inouye, research analyst for In-Stat.
Internet users in the United Kingdom are the leading users of online video, according to a report from comScore released Tuesday. Eighty percent of adult Internet users there initiated a video stream in April, compared with 79 percent in France, 76 percent in the United States and 70 percent in Germany.
Those numbers mesh well with similar figures from In-Stat, which indicate that within Europe, UK users consume the most online videos, followed by France and then Germany, Inouye told TechNewsWorld.
Why Not Germany?
Given Germany's consistently high ranking in such reports, its absence from the list of countries targeted for this first round of localization has raised some eyebrows.
YouTube declined to provide any specific explanation, saying only that the process of contextualizing and localizing the features for each market takes time, and affirming that the company will expand the site to additional international audiences in the future.
It's possible the company chose to localize a version for Spain first, given that Spanish is more widely spoken around the globe than German is, Inouye suggested.
A Dividing Effect?
Either way, while the increasing localization of YouTube content will certainly benefit search capabilities and community building within individual countries, it could have the opposite effect globally, Cheryl Gutowski, research analyst for Nucleus Research, told TechNewsWorld.
"Right now, everyone around the world has access to the same database of content, and that's uniting in a way," she noted. "Now, with localized pages, that's bound to change."
Shares of Google, which owns YouTube, fell as much as US$3.66, or .71 percent, during Tuesday trading.