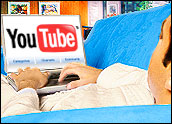 YouTube has started to dabble in downloadable videos, offering a new download option for President-elect Barack Obama's ChangeDotGov channel on YouTube.
Some of the videos, particularly the "Weekly Address" series, now sport a "Click to download" link below the play button. Previously, all videos were offered as streaming videos that required an Internet connection while viewing.
Now, a simple click initiates the download, which results in an H.264 encoded .mp4 file that's playable on computers as well as many portable media players like iPods, as well as video-capable mobile phones. It's possible that the downloadable files are the same files that are used for media devices — like in the iPhone's built-in YouTube app.
Although there have been third-party tools made by companies like RealNetworks for ripping YouTube video streams to files, the ChangeDotGov downloadable files appear to be the first downloads officially offered by YouTube.
Anywhere You Want It
Portability is the keyword here, and the new option lets viewers watch at times when they have no Internet connections.
"If you've got an iPhone, you're online, but you don't always have a good connection," Phil Leigh, senior analyst for Inside Digital Media, told TechNewsWorld.
"It's clearly a step towards portability, and I think they've made it clear they want to be available on all screens — they want to be on the computer, portable devices and the TV," he added.
YouTube did not respond to TechNewsWorld inquiries about the new feature and future scope of downloadable videos on YouTube.
The big question is, will YouTube offer more downloadable user-generated videos in the future?
"It's as certain as there are fleas on a yard dog," Leigh said.
More Than Portability
In addition to portability, downloadable videos may make YouTube easier to use and share — for instance, if a user finds a great video and doesn't bookmark it or save the URL, it can be hard to find again. Similarly, a great video could get downloaded to an iPod and shared at a moment's notice. Heck, it could even be taken camping.
Portability does bring up other pesky questions, however. How will copyright and usage issues be handled? Will any sort of advertising ever be attached to the videos? Will YouTube lose control of a video that could be posted and shared on a non-YouTube site? What will the number of views mean if a certain number has been downloaded instead of streamed?
How's the Quality?
A quick test of a downloadable file's playback quality showed a smaller viewable window than the default YouTube video size shown in Safari on Mac OS X — but it was much sharper with a richer image. Plus, the video was easier to manipulate — viewed with QuickTime, it was easy to move the video around the desktop without moving a full browser page.
Compared to the streaming HD version, the downloadable version was obviously smaller and produced a lousy image when taken to full-screen mode on a MacBook — as expected, with similar results likely for PCs. The file was 4 minutes long and came in at 13.6 MB.