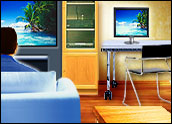 When startup ZeeVee launched its ZvBox last month, it entered a fray in which high-profile contenders have already found success elusive.
The ZvBox aims to let consumers watch any Internet TV, online video or computer content on their home high-definition TVs, and it marks one of the latest attempts in the industry to solve the persistent problem of how to bring Internet content onto HDTVs.
"Every content provider is now putting content up on the Internet, and some make it available in high definition," Vic Odryna, ZeeVee's cofounder and CEO, told TechNewsWorld. "Usually, however, you're huddled around a laptop or desktop to see it — it doesn't make its way into the living room."
Many players — including Apple with its AppleTV — have tried to attack the problem. "The problem is, they only let you reach certain amounts of that content," Odryna explained. AppleTV, for example, delivers primarily content from iTunes, he noted.
"The only thing that can do a good job is the computer, so we saw an opportunity to connect the computer with home theater," he said.
A Channel of One's Own
ZeeVee's ZvBox achieves that by connecting to the monitor output of the computer and turning it into a new high-definition TV channel called Zv, which is then broadcast across the existing cable wiring to all HDTVs in the home.
"We built a box that lets you become your own HDTV broadcast station," Odryna explains.
Users can then tune to their HD channel just as if it were any other broadcast channel, though its programming is the content on the computer and can be accessed either directly, using the computer's regular desktop interface, or through a new graphical interface called the "Zviewer."
The result is that consumers can watch anything available online or on their computer, with no new subscription fees and with just one box for the whole house. Any computer application is also accessible from the HDTV, including e-mail, Web browsing, photos, music, home movies and the computer's own DVD player.
Due at the end of June, the ZvBox is being offered as a bundle including the ZvRemote and Zviewer. It is available for preorder exclusively at Amazon.com's electronics store for US$499.
'The Light Bulb Moment'
The ZvBox brings to fruition an idea that several members of ZeeVee's founding team had been kicking around since 2002, Odryna says.
They realized that the TVs "already know how to display the content," and saw that other solutions required consumers to buy a separate box for each TV, he explained. "The light bulb moment was the idea of letting people build their own HDTV stations," he says.
They filed for a patent about six months later, but didn't found the company yet because "we honestly couldn't believe other people weren't already doing it," Odryna recalls. "We spent close to a year trying to figure out if anyone was."
The right technology at the right price point also had to become available. "People have been building TV stations for a long time with equipment costing tens of thousands of dollars," Odryna notes. "We needed to have the right technologies come together — some we had to develop ourselves, and others had to reach the right cost point."
'Hiring Rock Stars'
Video encoding, for example, required a processor with enough power and a low enough cost, along with "a tremendous amount of custom software," he notes.
ZeeVee started building its business plan in late 2006 and early 2007, and raised its A-round of funding in early April 2007.
Most of the company's first year was focused on research and development. "We put in place 20 engineers, all in very different disciplines," Odryna says. "We went after 'rock stars,' so that took some time."
'Building Company 1.0'
There was no single "most daunting" challenge during ZeeVee's startup process — rather, "this is one of those multidimensional problems," Odryna says. "One, we have to compress the data coming in in HD in such quality that it looks great on HDTV. Then we had to build all the technology to be able to broadcast it — the real RF work."
Keeping costs down and finding a manufacturing partner in China were also challenging parts of what Odryna calls "building Company 1.0."
The company's biggest accomplishment so far? "Getting it to work," Odryna laughs. "Also, when we wrote it out on the back of a napkin, we put our stake in the ground and said we'd have it out in April," he adds. "We're only about a month and a half out, which I think is pretty impressive."
Commercial Versions
Looking ahead, ZeeVee is focused on "building the best company we can possibly build," Odryna says. "We're in the business of profitably selling hardware that people are interested in buying. We don't have any quick-exit strategies or anything like that."
There will be new generations of the ZeeVee box, including commercial versions aimed at such venues as sports bars and airports, he noted. "Overall, our goal is to spread as rapidly as we can while building a quality product."
Given the industry it's in, ZeeVee faces a daunting challenge, Mike Paxton, a principal analyst with In-Stat, told TechNewsWorld.
'A Very Steep Challenge'
"There are some very high-profile companies trying to build a business in that space, and success has been elusive for virtually all of them," Paxton said. "A startup that doesn't have the resources or branding of Apple has a very steep challenge."
Consumers are interested in the types of capabilities ZeeVee offers, but they have questions about prices — which tend to be high — as well as ease of use and installation, he said. Whether there's enough compelling content is also something consumers wonder, he added.
"The Internet is billions of video slices and programming — it's just a fire hose blasting straight at you," Paxton explained. "If this is similar to other models, there will need to be some refinement before it goes mainstream."
Looking forward, "it'll be interesting to see if this market really develops," Paxton concluded. "So far there are a lot of people with their oars in the water but not really doing much."
International Trend
ZeeVee and its ZvBox "are examples of the big movement that is currently under way to connect people's TV sets directly to their broadband Internet connection," Gerry Kaufhold, also a principal analyst with In-Stat, told TechNewsWorld.
Indeed, a Netherlands-based company, DailyMedia.tv, has already launched an offering with a free set-top box and free basic service that lets consumers watch TV from their high-speed Internet connection and pay only for up-sell services like movies on demand, home security video monitoring and premium content, Kaufhold noted.
Other contenders in the space are the recently announced Netflix/Roku box as well as the Xbox 360 and AppleTV, he added.
'Battle Royale'
"The big 'gotcha' for all these set-top boxes that connect your Internet service to your TV set is that most people are watching TV on a wide-screen HDTV set, and that requires a really good connection to the Internet," Kaufhold explained.
Comcast's video-on-demand services currently provide "an excellent experience for end-users," Kaufhold said, but "the online services can present a much glitzier user interface, with animation, graphics, video and audio.
"We see a battle royale shaping up between the cable TV companies delivering high-definition video-on-demand up against these 'over the top' or Internet bypass approaches," he concluded. "It will be a race to see who gets legal access to the hottest content and can deliver it to consumers with the most convenience."