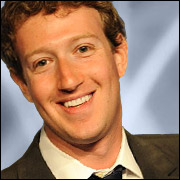 Facebook founder Mark Zuckerberg met Monday with Russian Prime Minister Dmitri Medvedev in Moscow.
According to The New York Times, Russia is something of a "test case" for Zuckerberg and Facebook: a country that is commercially significant but nonetheless tightly regulates — and censors — its media.
With more Internet users than Germany, Russia is the largest Web market in Europe. Its Internet users are especially keen on buying virtual goods, such as weapons or "special powers" for online games. This, according to The Times, makes Russia a sort of Petri dish for how to earn money other than through advertising.
It so happens that two of Facebook's largest investors are Russian.
Facebook recently struck a deal with Beeline, one of Russian's mobile phone providers, to offer a free Facebook app to subscribers.
Spam Texters Ordered to Pay
Two people face fines of up to a half million pounds, or about US$807,000, for sending out millions of bogus text messages.
According to The Guardian, the spam texts offered accident compensation and payment protection insurance.
The potential penalties are part of a crackdown on unsolicited texts by the United Kingdom's Information Commissioner's Office, or ICO. An additional eight companies could face fines for what authorities call "one of the most annoying examples of unwanted marketing."
The ICO was recently liberated to issue fines of up to Pounds 500,000 for the "misuse of personal data." Among those abuses: Text messages without a sender name, and senders who don't heed requests to stop sending texts. Since it began asking Britons to forward instances of spam texts six months ago, the ICO has received almost 30,000 examples.
Swedish Police Raiding Copyright Infringers
Police in Sweden raided the Stockholm-based Web host PRQ, which achieved notoriety for hosting iffy websites such as The Pirate Bay, Wikileaks, Pedophile.se and more.
Forbes reported that police seized four servers from PRQ, which according to CNET, employs a "don't ask, don't tell" policy for hosting sites.
Police have reportedly raided PRQ twice before — once in 2006, and again in 2010. Both of those raids stemmed from allegations of illegal file-sharing.
According to CNet, PRQ no longer hosts file-sharing site The Pirate Bay, which has been blocked by ISPs throughout Europe, including in the UK, the Netherlands, Belgium and Italy.
Gottfrid Svartholm Warg, a Swede who cofounded The Pirate Bay, was recently arrested in Cambodia and extradited to Sweden.
EU: Apple Warranties Could Be Stale
European Union justice commissioner Viviane Reding has asked member countries to investigate whether Apple retailers have failed to notify buyers about their EU-mandated right to a two-year warranty.
According to Bloomberg, it's not the warranty itself, but rather Apple's advertising about the warranty, that is in question.
Reding claims that Apple advertises its one-year manufacturer warranty but has not sufficiently notified customers that they are entitled to two-year warranty for products like the iPhone and iPad.
Consumer groups in 11 countries have reportedly complained that Apple has emphasized its own "after-care service" compared to statutory protections, according to the BBC.
Italy fined Apple $1.16 million last December for misleading consumers about warranties.