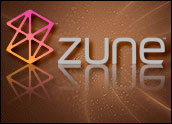 Microsoft's challenger in the digital media player market, the Zune, received a major update Tuesday.
New features will bring a host of TV shows and other changes to the Zune online store and its music-sharing community, Zune Social, according to Microsoft. The update will give depth to the Zune's video offerings and also deepen the social components of its music-sharing community.
"The release that went live early this morning really focused on three different areas," said Brian Seitz, group marketing manager for Zune. "One, the most obvious, was the addition of short form video to our online store. We've done a bunch of updates to the features and functionality of the Zune Social, but also brought the power of the Social, the data that's kind of feeding it, into the Zune software that's on your PC.
"The other big cool thing was that the engine of the Zune Social, your Zune card — we're giving people the ability to actually bring those cards down onto their device," he added.
Zune TV
Zune users can now head to the Zune online store for more than just music. Microsoft has expanded its video download options to include television shows from Comedy Central, FUNimation Entertainment, MTV, NBC Universal, Nickelodeon, Starz Media, Turner Broadcasting, Ultimate Fighting Championship and VH1.
Consumers can download their favorites from a list of more than 800 episodes. Included in the Zune online store are installments of "South Park," "Witchblade," "The Hills," "The Office," "Heros," "30 Rock," "Robot Chicken" and "Rock of Love." The shows will initially run users 160 Microsoft Points per episode, approximately US$1.99.
Shows available for the Zune community will be updated every 24 hours.
The addition of NBC to the Zune television lineup follows a very public break between the broadcast network and Apple's iTunes online store last fall. The two entertainment companies were unable to reach an agreement on pricing. NBC wanted more flexibility on the price of some shows, but Apple remained fixed at the $1.99 price point.
While NBC offerings for the Zune will sell for about $2 at the launch, Microsoft has agreed to a more flexible pricing scheme, said JB Perrette, president of NBC Universal digital distribution.
"Partnering with Zune will allow us to develop innovative content offerings for their customers, including flexible pricing and packaging options beginning this fall," he stated.
The inclusion of TV shows, however, does not necessarily mean that movies are on the horizon, according to Seitz. Based on consumer data indicating a preference for short-form programming, Microsoft is focused on providing the best experience it can with television programming.
"We're in this for the long haul, and we're still fairly new compared to some of our competitors. We really want to make sure we nail each experience and not try to go whole hog and let down our customers," he told TechNewsWorld.
"There's a subset of our customers who are interested in movies, and we're going to continue to see what we can do there. We don't have anything to announce at this time, but it is definitely something we're looking at," Seitz added.
Musically Connected
On the music front, Microsoft has beefed up the features of the Zune Card — a free, customizable digital "card" that provides a snapshot of users' favorite tunes and what they're listening to — and made the card more portable.
A simple drag and drop by a Zune-wielding friend to the device will update them on what other friends are listening to each time they sync the device. And if they have a Zune Pass subscription, which offers nearly unlimited access to the Zune library for $14.99 a month, the full track will automatically appear on their Zune. Those without a subscription will see the album information and artwork but will have to purchase the track separately.
"We're giving people the ability to actually bring those [Zune] cards down onto their device. What that means is the friends that you agree to have a relationship with, you can scroll through their Zune card on your Zune and see what they've been listening to. The big bonus is if you're a subscriber, not only do you get to see what they've been listening [to], but you get to listen to a subset of tracks represented on those Zune cards," Seitz explained.
Driven by customer feedback, Microsoft also made several other improvements to the way the Zune manages content. Users can now create auto playlists that update automatically when new music is added.
Organizing collections, editing album and track information, and browsing videos have been enhanced. In homes with more than one Zune, multiple players can now be synced simultaneously.
The 800-Pound iPod
With only a few million Zunes in consumers' hands — roughly a 2.5 percent share of the MP3-player market, according to a 2007 Yankee Group survey — Microsoft must fight an uphill battle against the market leader, Apple's iPod. While the lack of more extensive video offerings has not hindered sales, in this war of attrition, every little bit may help, said Joshua Martin, digital media analyst at the Yankee Group.
"Zune's failure to capture market share has not been the result of video exclusion but more the function of the satisfaction of iPods — over 93 percent. In order for competitors to unset the 800-pound gorilla that is Apple, they have to find unique ways to win consumers through experience and discovery coupled with attractive products," he told TechNewsWorld.
The addition of video is an important one for the Zune to catch up with the iPod, but ultimately Microsoft must further hone the experience for users, as they have started to do with the Zune Social, and take it to another level, Martin explained.
"It is this approach that will help them attempt to compete with Apple. However, the market is maturing quickly, and Apple still reigns atop the heap, so the window to engage in a coup is quickly dissipating," he added.
Anton Denissov, a Digital Media Content analyst at Yankee Group, pointed out that even for Apple, video downloads have not been nearly as lucrative or as a big of a draw for consumers as music.
The proliferation of Internet sites such as Hulu.com that provide many of the same episodes as the Zune store — but for free — combined with the recent economic downturn could make the Zune's offerings a non-factor, he said.
"$15 is a lot for dwindling entertainment budgets. But there are two benefits. The fact that you can get older episodes — on Hulu.com and NBC.com — they take stuff down so you do lose it. The second benefit is that you can watch it on a portable device," he told TechNewsWorld.