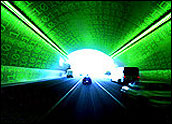 Chrysler is putting WiFi on wheels with plans for a new vehicle-based wireless Internet system. The automaker's upcoming Uconnect Web service — announced Thursday in Detroit — will let travelers turn their cars into moving WiFi hotspots.
The service, powered by AutoNet Mobile, will cost US$29 per month and will require a dealer-installed $449 mobile router. Uconnect Web will launch in a limited capacity in August, with service becoming available for all Chrysler, Jeep and Dodge vehicles by September.
In-Car Connection
The mobile surfing system runs over a 3G cellular system and then distributes the signal via WiFi to the entire vehicle. Like with any regular WiFi network, any wireless-enabled device will work.
"We want customers to be able to bring any device they have with them — not force them to purchase any specific device that works only in the car," Chrysler Advanced Connectivity Strategist Keefe Leung told TechNewsWorld.
The service offers a 100-foot range, meaning you don't even have to be inside your vehicle to be able to log on.
"It gives you flexibility if you're parked somewhere or, say, watching a kid's soccer game," Leung said. "If you want to be able to check out the Internet without being in your car, you can do that."
The Road to Rolling WiFi
The company that developed the technology, AutoNet Mobile, has been working on the system for just over three years. This is its second launch, following last May's introduction of wireless systems in Avis rental vehicles.
"It was all about bringing the home Internet connection and extending it into the vehicle," AutoNet Mobile CEO Sterling Pratz told TechNewsWorld. "We felt that the car shared similar qualities to the home in the fact that it had an immersive capability."
AutoNet Mobile noticed the need for expanded entertainment in the vehicle, particularly for kids.
"We saw the DVD market softening. If you ask a kid, 'Would you rather have a DVD for the long trip to grandma's house or would you rather be on the Internet,' they 100 percent go for the Internet," Pratz explained.
Creating the technology, however, proved to be a bigger challenge than Pratz' team expected. The largest hurdle was something they call "dropped call syndrome" — the idea of a lost connection while moving between two towers. The same thing seen on cell phones was happening with the online sessions.
"What we found was long TCP sessions were really a problem in a vehicle," Pratz said. "We realized we had to look at this thing a lot deeper."
Engineers shifted their perspective to a "four-dimension" approach: thinking about the car moving between towers and between high- and low-speed networks, but also taking into consideration multiple cars within the same network and multiple passengers inside each of those cars. AutoNet Mobile developed a complex algorithm to manage the plethora of links and keep the data stream constant.
"If the network doesn't realize it's been disconnected from the [Internet protocol] layer, it just sits and hangs. We had to create an algorithm that actually sensed it and understood the packet layer going to and from the car," Pratz explained.
From a user standpoint, the final product will look and act just like any other WiFi network — and should be about the same speed, too.
"We simply are seen as a WiFi network, just like a customer would see at Starbucks or at their house," Pratz said.
Spotlighting Safety
Chrysler has already come up with plenty of applications for the system. Kids can connect their gaming systems to play with friends while on the road, and a photo utility lets you have pictures automatically uploaded to a site of your choice almost instantly as they're taken.
"Your friends and relatives back home can see exactly what you're doing and take a virtual trip with you," Chrysler's Leung told TechNewsWorld.
The focus, however, is on rear-seat entertainment and parked access — not active driving use by the person behind the wheel.
"We're instructing our drivers to be responsible. Just like anything they bring into their car, if they're going to use something, they should pull aside on the side of the road and use it safely."
It's an approach safety experts hope drivers will follow.
"In a technology-driven society, there are only going to be more and more chances for these types of distractions," Kendell Poole, director of the Tennessee Governor's Highway Safety Office, told TechNewsWorld.
"We know it makes all of our lives easier — and we're happy about that — but it comes down to personal responsibility. It's going to be a good thing, but only if we use it wisely."